Anti-slip Rubber Load Mats ensure safe load restraint during transport
Transportation of unrestrained cargo poses a risk of extremely dangerous load slipping.
The transportation of cargo by road, rail, sea or air can be a dangerous practice with large and varying loads being shipped long distances every day. With hundreds of Australians injured or killed each year due to unrestrained loads, safe load restraint has become a critical issue for the transport industry.  Australian law dictates performance standards for load restraint, and these are set out in the Nation Transport Commission Load Restraint guide.
Reglin rubber load matting increases friction between vehicle and cargo surfaces for safe load restraint.
Installing rubber load mats between vehicles and cargo increases the friction between these surfaces.  This friction is critical for many load restraint systems using tie-down restraints.  Under this method, friction stops the load from moving forwards, sideways and backwards. The compressibility of the rubber load mats also assists in eliminating variations in surface finishes of the rigid vehicle surface and load being transported.   For tie down restraints to be effective it is critical the load must be in contact with vehicle throughout its journey.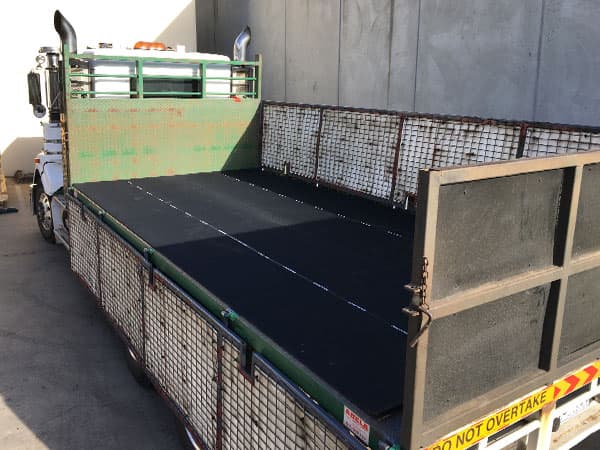 Anti-slip Reglin Rubber Load Mats are certified for high friction and ensure a non-slip surface is achieved wherever they are used. Load Mat can be supplied in a range of versatile custom-made strip, pad and sheet sizes to suit your specific transport application requirements.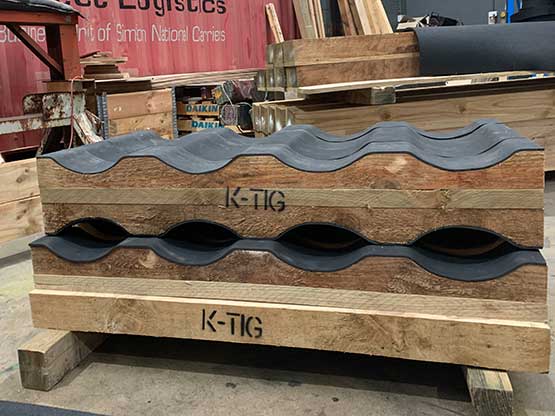 Independently tested and certified coefficient of friction
Reglin Rubber Load Mats are designed for high friction and have been independently tested and certified to ASTM D1894-11 with modification to a flat steel surface (for static and kinetic coefficients of friction). It exceeds a coefficient of friction of 0.6 between the load mat and steel in both wet and dry conditions.
This friction certification provides general information to help you choose a load restraint system for your load. It is critical that all possible conditions to be encountered are considered when choosing your load restraint system.  The best way to do this is by testing of your specific load or to get your system certified by a qualified engineer.
Highly durable rubber compound
Reglin Rubber Load mats are made from a premium grade rubber compound.  They are a solid rubber sheet and offer durability and toughness for repeated long-term use.  They will outlast any recycled crumb rubber load matting.