SAR 60 is a premium grade wear and impact resistant 60 Duro rubber sheet.
SAR 60 Rubber Sheet is made from a highly elastic premium rubber compound and will display excellent resistance to sliding abrasion and large particle impact.
SAR 60 has excellent physical properties including cut and tear resistance.  It will also display resistance to some mild chemicals, including acids and alkalis used in mineral processing.   It has good ozone/UV resistance making it suitable for outdoor use.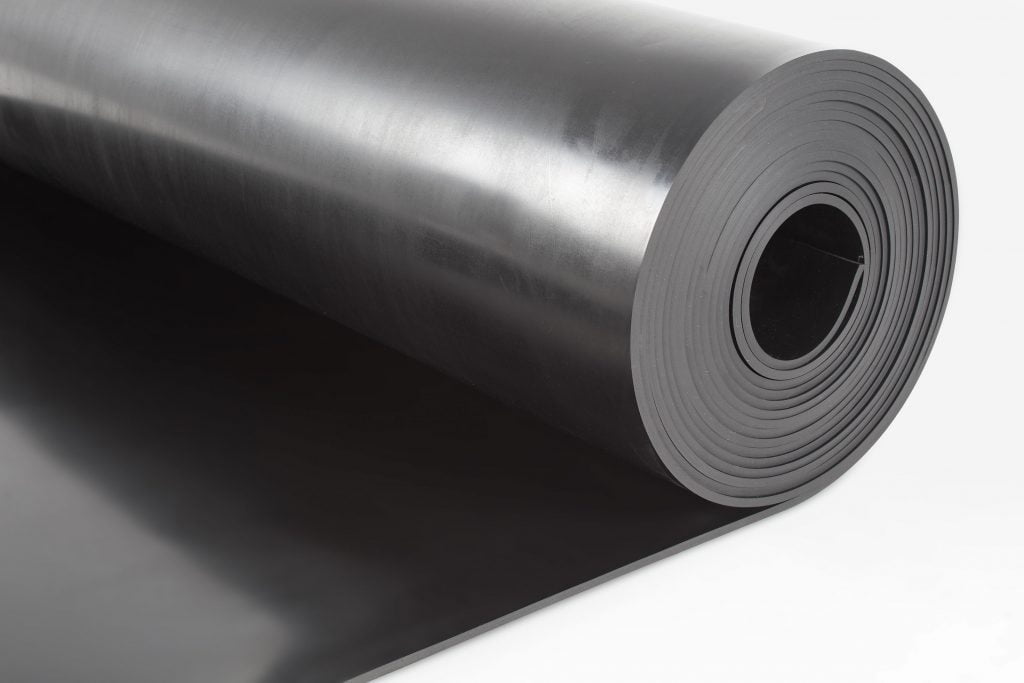 Reglin SAR 60 Rubber Sheet has been designed primarily for use as a flexible strip, gasket, curtain or lining.
It is typically mechanically fastened to equipment and is used for sealing, insulating, isolating and protecting steel or other surfaces in high wear and impact applications.
It is used predominantly in the Mining, Quarrying and Mineral processing industries, but can be used for any application which requires an abrasion and impact resistant rubber.
Typical applications include:
Chute Lining
Heavy-duty hard-wearing skirting rubber
Impact curtains
Dust sealing curtains and skirts
Covers
Dust Deflectors
Rod wipers
Scrapers
Mill seals
Loading / Discharge socks
Transfer and joining sleeves
Variety of sealing applications
TECHNICAL INFORMATION
| | | |
| --- | --- | --- |
| Polymer | NR/BR | |
| Colour | Black | |
| Specific Gravity | 1.10 | ASTM D297 |
| Hardness | 60° ± 5° Shore A | ASTM D2240 |
| Tensile Strength | 17 MPa (min) | ASTM D412 |
| Elongation @ Break | 450% (min) | ASTM D412 |
| Abrasion | 60mm³ (max) @ 10N | ASTM D5963 |
| Temperature Range | -20°C to + 70°C | |
| Tear Strength | 80 N/mm (min) | ASTM D624 |
AVAILABLE SIZES
Reglin stock SAR 60 Rubber Sheet in a range of standard thicknesses and roll sizes.  It can also be supplied in cut lengths, strips, pads and a wide variety of custom cut shapes and gaskets to suit your application requirements.
| | | |
| --- | --- | --- |
| PART NUMBER | DESCRIPTION | WEIGHT (PER L/M) |
| SAR03 | SAR 60 Rubber Sheet 3mm x 1200mm (10 L/M Rolls) | 4 kgs |
| SAR04.5 | SAR 60 Rubber Sheet 4.5mm x 1200mm (10 L/M Rolls) | 6 kgs |
| SAR06 | SAR 60 Rubber Sheet 6mm x 1200mm (10 L/M Rolls) | 7.8 kgs |
| SAR10 | SAR 60 Rubber Sheet 10mm x 1200mm (10 L/M Rolls) | 13.2 kgs |
| SAR101500 | SAR 60 Rubber Sheet 10mm x 1500mm (10 L/M Rolls) | 16.5 kgs |
| SAR12 | SAR 60 Rubber Sheet 12mm x 1200mm (10 L/M Rolls) | 15.9 kgs |
| SAR121500 | SAR 60 Rubber Sheet 12mm x 1500mm (10 L/M Rolls) | 19.8 kgs |
| SAR161500 | SAR 60 Rubber Sheet 16mm x 1500mm (10 L/M Rolls) | 26.4 kgs |
| SAR191500 | SAR 60 Rubber Sheet 19mm x 1500mm (10 L/M Rolls) | 31.4 kgs |
| SAR251500 | SAR 60 Rubber Sheet 25mm x 1500mm (10 L/M Rolls) | 41.3 kgs |
| SAR501800 | SAR 60 Rubber Sheet 50mm x 1800mm (10 L/M Rolls) | 99.1 kgs |