Conveyor Repair Fabric EP125
Reglin Conveyor Repair Fabric is a premium grade reinforced rubber sheet with CN bonding layer on both sides.
Reglin Conveyor Repair Fabric is made from a highly elastic premium rubber compound and will display excellent resistance to abrasion.
Repair fabric is supplied with a heavy PN125 nylon reinforcement for maximum tear strength and puncture resistance
Reglin Repair Fabric features a specially formulated Neoprene based CN bonding layer on both sides to achieve ultimate adhesion when bonded to steel or rubber surfaces. To achieve ultimate adhesion, TRS adhesives are recommended. The CN bonding layer and TRS adhesive system is extremely flexible. It allows for good bond strength to be achieved even in adverse conditions encountered on site.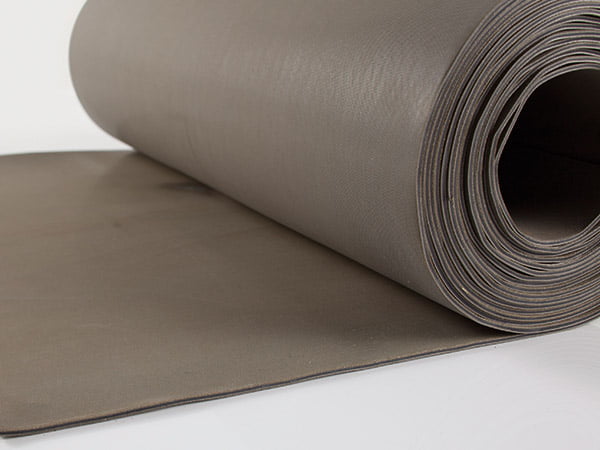 Reglin Repair fabric has been designed primarily for use as a conveyor belt cold splicing and repair system.
It is designed to be used during cold splicing or performing cold repairs on conveyor belts that have been worn or damaged in service.
Repair fabric is typically used on conveyors in the Mining, Quarrying and Mineral processing industries. It is designed for use on site without removing the belt from the conveyor system.  It is quick and easy to install and is bonded to the belt using specifically designed cold vulcanizing adhesives.
Repair fabric can also be used for reinforcing joins or any application where rubber needs to be repaired.
TECHNICAL INFORMATION
| | | |
| --- | --- | --- |
| Polymer | NR/SBR | |
| Colour | Black with CN Bonding layer both sides | |
| Reinforcement | EP125 Nylon | |
| Specific Gravity | 1.2 | ASTM D297 |
| Hardness | 60° ± 5° Shore A | |
AVAILABLE SIZES
Reglin stock Conveyor Repair fabric in a standard thickness and roll size.
| | | |
| --- | --- | --- |
| PART NUMBER | DESCRIPTION | WEIGHT (PER ROLL) |
| RMCRF03 | Conveyor Repair Fabric with CN Layer Both Sides (EP Reinforced) 3mm x 500mm (10 L/M Rolls) | 20.5 |