Reglin Fluorodyn Viton Caulk is a highly flexible corrosion resistant fluoroelastomer sealant. 
Reglin Fluorodyn Viton Caulk is made from a premium Viton compound and features 75% solids making it an easy to apply, single component sealant.  It will display very high temperature and excellent resistance to a broad range of chemicals and aggressive acids.
Fluorodyn Viton caulk exhibits excellent resistance to oil and petroleum-based products including a diverse range of fuels, greases, solvents and hydraulic fluids.  It is also resistant to mineral acids, aliphatic and aromatic hydrocarbons.
Viton Caulk has excellent ozone/UV resistance making it weather resistant and suitable for prolonged outdoor use.  It has good physical properties including mechanical strength and will maintain its fluid resistance and flexibility across a wide temperature range.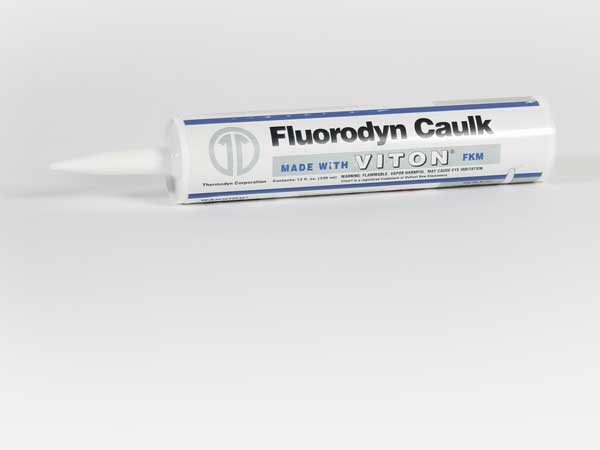 Reglin Fluorodyn Viton Caulk has been designed primarily for use as a flexible sealant in chemical environments. 
It is designed specifically for creating flexible expansion joints in a range of different substrates including steel, concrete, glass and ceramics.  It is also typically used for sealing, insulating, isolating and protecting other surfaces.
Fluorodyn Viton caulk is suitable for long term use in corrosive environments with exposure to high temperatures.  It is also suitable for a range of applications with exposure to oils, petroleum-based products and ozone/UV.
Its properties make it suitable for use in a range of applications including:
Containment system sealing & lining
Bunded area expansion joints
Flue duct flexible joint manufacture and repair
Viton repairs and bonding
Chemical resistant flange sealant
TECHNICAL INFORMATION
| | | |
| --- | --- | --- |
| Polymer Base | FKM | |
| Colour | Black | |
| Temperature Range | -28°C to +232°C | |
AVAILABLE SIZES
Reglin stock Fluorodyn Viton caulk in a standard size.  It can also be supplied in other sizes upon request.  Lead times and minimum order quantities apply to these products.
| | | |
| --- | --- | --- |
| PART NUMBER | DESCRIPTION | WEIGHT (EACH) |
| GLFVC320 | Fluorodyn Viton Caulk Sealant 320ml Cartridge | 0.45 kgs |