Reglin Anti-Fatigue Matting is a profiled rubber mat with tapered edges.
Reglin Anti-fatigue Matting is made from a synthetic rubber compound and will display good physical properties.
Anti-fatigue Matting is durable and features a textured profile finish on its top surface to ensure it is non-slip in both wet and dry conditions.
It has holes and a profiled finish on the underside to allow for water drainage and to ensure there is no moisture build-up under the matting.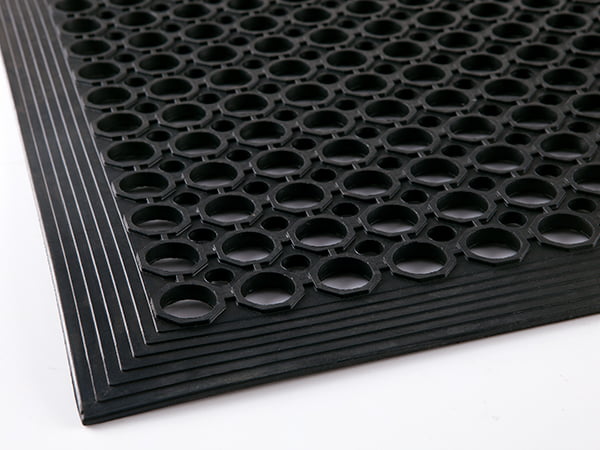 Reglin Anti-fatigue Matting has been primarily designed for use as a non-slip rubber matting for work areas where personnel are standing for extended periods of time.
It is typically used to create an anti-slip surface and reduce fatigue for workers.
Anti-Fatigue Mats are specifically designed with tapered edges to eliminate creating a trip hazard in foot trafficked areas.
Its properties and profiled design make it suitable for a range of applications.
TECHNICAL INFORMATION
| | | |
| --- | --- | --- |
| Polymer | SBR | |
| Colour | Black | |
| Specific Gravity | 1.5 | ASTM D297 |
| Hardness | 65° ± 5° Shore A | ASTM D2240 |
| Tensile Strength | 3.5 MPa (min) | ASTM D412 |
| Elongation @ Break | 250% (min) | ASTM D412 |
| Temperature Range | 0°C to +65°C | |
AVAILABLE SIZES
Reglin stock Anti-Fatigue Mats in a standard profile.
| | | |
| --- | --- | --- |
| PART NUMBER | DESCRIPTION | WEIGHT (EACH) |
| AFMAT | Anti-Fatigue Mat 13mm x 1542mm x 915mm with Tapered edges | 12 kgs |