Reglin Butyl is a premium grade 65 Duro corrosion and heat resistant rubber sheet.
Reglin Butyl Rubber Sheet is made from a premium chloro-butyl rubber compound and will display high temperature and excellent chemical resistance to both acids and alkalis.
Butyl has excellent ozone/UV resistance making it weather resistant and suitable for prolonged outdoor use.  It has good physical properties including mechanical strength.
Butyl has excellent insulating properties as well as low fluid and gas permeability.   It has low resilience giving it excellent vibration damping and shock absorbing properties.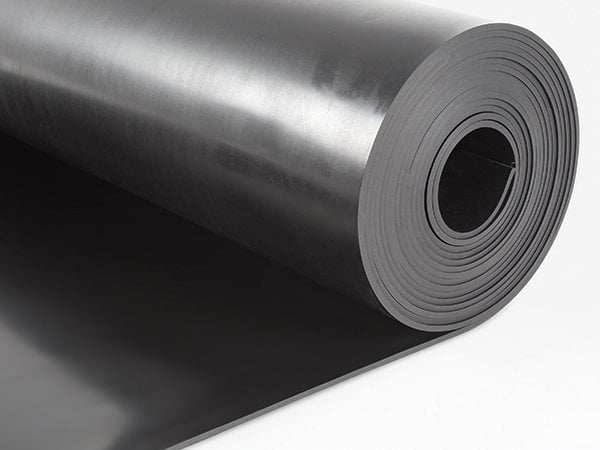 Reglin Butyl Rubber Sheet has been designed primarily for use as a flexible strip, pad, gasket or lining.
It is typically used for sealing, insulating, isolating, and protecting steel or other surfaces.
Butyl is suitable for long term use in outdoor environments with UV and chemical exposure.  It is also suitable for applications which require shock absorption and vibration dampening.
Its properties make it suitable for use in a range of applications including:
Flange gaskets on pipes and tanks
Lining of equipment
Transfer and joining sleeves
Weatherproofing flashing
Insulating strip
Isolation barriers
Acid proof splash guards and covers
Loading and discharge socks
Anti-vibration strips and pads
Variety of sealing applications
TECHNICAL INFORMATION
| | | |
| --- | --- | --- |
| Polymer | Chloro-butyl | |
| Polymer Content | 100% | |
| Colour | Black | |
| Specific Gravity | 1.3 | ASTM D297 |
| Hardness | 65° ± 5° Shore A | ASTM D2240 |
| Abrasion | 250 mm³ (max) @ 5N | ASTM D5963 |
| Tensile Strength | 7 MPa (min) | ASTM D412 |
| Elongation @ Break | 300% (min) | ASTM D412 |
| Temperature Range | -45°C to +110°C | |
AVAILABLE SIZES
Reglin stock Butyl Rubber Sheet in a range of standard thicknesses and roll sizes.   It can also be supplied in cut lengths, strips, pads and a wide variety of custom cut shapes and gaskets to suit your application requirements.
| | | |
| --- | --- | --- |
| PART NUMBER | DESCRIPTION | WEIGHT (PER L/M) |
| BUTYL01.5 | Butyl Rubber Sheet 1.5mm x 1200mm (10 L/M Rolls) | 2.5 kgs |
| BUTYL03 | Butyl Rubber Sheet 3mm x 1200mm (10 L/M Rolls) | 4.6 kgs |
| BUTYL04.5 | Butyl Rubber Sheet 4.5mm x 1200mm (10 L/M Rolls) | 6.9 kgs |
| BUTYL06 | Butyl Rubber Sheet 6mm x 1200mm (10 L/M Rolls) | 9.1 kgs |