Cera-Wear Ceramic Wear Pads
Cera-Wear Ceramic Wear Pads are a premium grade wear resistant composite ceramic liner with a CN bonding layer.
Cera-Wear Ceramic Wear Pads are made from wear resistant 92% alumina ceramic tiles vulcanised to a rubber backing.  They display excellent resistance to both high velocity and high flow wet slurry and fine particle sliding abrasion and impact.
Cera-Wear Pads feature ceramic tiles without gaps between them and are vulcanized to a 40 Duro premium natural rubber compound backing.  This design creates a full 100% ceramic surface eliminating any possibility of fine particle wear between tiles.  Cera-Wear Pads will give moderate impact resistance and flexibility and are suitable for installation on flat, mildly convex or concave surfaces.
Cera-Wear Ceramic Wear Pads feature a specially formulated Neoprene based CN bonding layer to achieve ultimate adhesion when bonded to steel or rubber surfaces. The CN bonding layer is compatible with a wide range of Neoprene based rubber adhesives and allows for good bond strength to be achieved even in adverse conditions encountered on site.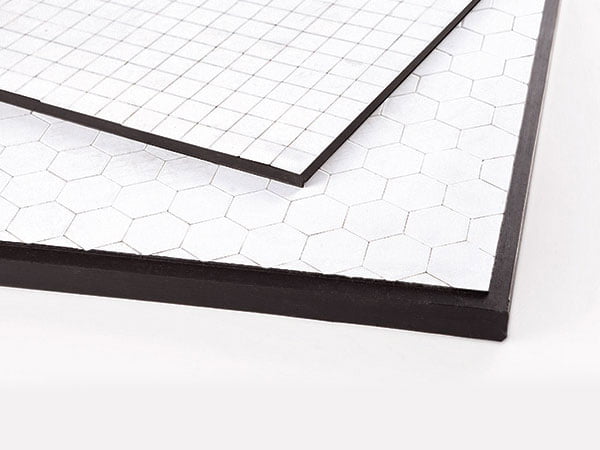 Cera-Wear Ceramic Wear Pads have been designed primarily for use as a wear protection ceramic lining system.
They are bonded to equipment to protect steel surfaces from abrasion and impact.  They are predominantly used in the Mining, Quarrying and Mineral processing industries, typically on the following equipment:
Chutes
Tanks and Pipework
Conveyor Loading and Transfer Hoods
Feeders
Screen Beams and Components
Cyclones
Launders
Flotation Cells
Mill Feed Chutes
Sumps and Underpans
Cera-Wear Pads are also used extensively throughout the Agriculture industry on a range of grain handling, processing and storage equipment.
TECHNICAL INFORMATION
CERAMIC TILE
Alumina Content
92% (min)
Density
3.65 g/cc
ASTM C373-88
Hardness (Rockwell)
77 R45N
ASTM C1327
Compressive Strength
1950 Mpa (min)
ASTM C1424-04
Flexural Strength
320 Mpa (min)
ASTM C1161-02c
Water Absorption
0%
ASTM C373-88
Abrasion by Impingement
0.05 grams (max)
Abrasion by Rubbing
0.1 grams (max)
RUBBER
Polymer
SBR
Colour
Black
Hardness
40° ± 5° Shore A
ASTM D2240
AVAILABLE SIZES
Reglin stock Cera-Wear Ceramic Wear Pads in 500mm x 500mm panels in a range of standard thicknesses. They can also be supplied as a custom-made bolt in Ceramic wear liner system to suit your equipment and application requirements. See Custom Made Steel Backed Ceramic Liners.
PART NUMBER
DESCRIPTION
WEIGHT (EACH)
TECHNICAL
DRAWING
CWP05/0302S
Cera-Wear Ceramic Wear Pad with CN B/L 5mm x 500mm x 500mm
(Square pattern 3mm thick x 10mm A/F tiles on 2mm rubber with no rubber between)
3.5 kgs
PDF
CWP08/0404S
Cera-Wear Ceramic Wear Pad with CN B/L 8mm x 500mm x 500mm
(Square pattern 4mm thick x 20mm A/F tiles on 4mm rubber with no rubber between)
5.1 kgs
PDF
CWP14/1004S
Cera-Wear Ceramic Wear Pad with CN B/L 14mm x 500mm x 500mm
(Square pattern 10mm thick x 20mm A/F tiles on 4mm rubber with no rubber between)
10.5 kgs
PDF
CWP20/1208H
Cera-Wear Ceramic Wear Pad with CN B/L 20mm x 500mm x 500mm
(Hex pattern 12mm thick x 20mm A/F tiles on 8mm rubber with no rubber between)
13.5 kgs
PDF