Reglin EPDM 65 is a premium grade 65 Duro weather and heat resistant rubber strip.
Reglin EPDM 65 Rubber Strips are made from a premium EPDM rubber compound and will display high temperature and excellent chemical resistance to both acids and alkalis.
EPDM has excellent ozone/UV resistance making it weather resistant and suitable for prolonged outdoor use.  It has good physical properties including mechanical strength.
EPDM exhibits outstanding water resistance.   It is suitable for prolonged exposure to aquatic environments and will not deteriorate when submerged in fresh or sea water.  It is compatible with hot water and steam.
For further technical information please see EPDM 65 Rubber Sheet.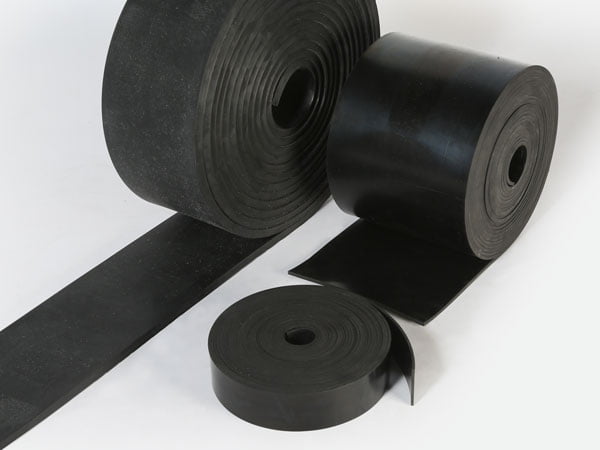 Reglin stock EPDM 65 Rubber Strips in a range of thicknesses and widths. Strips can also be supplied in custom cut widths and lengths to suit your application requirements.
| | | |
| --- | --- | --- |
| PART NUMBER | DESCRIPTION | WEIGHT (PER L/M) |
| EPDMS01025 | EPDM 65 Rubber Strip 1.5mm x 25mm (10 L/M Rolls) | 0.03 kgs |
| EPDMS01050 | EPDM 65 Rubber Strip 1.5mm x 50mm (10 L/M Rolls) | 0.06 kgs |
| EPDMS01075 | EPDM 65 Rubber Strip 1.5mm x 75mm (10 L/M Rolls) | 0.1 kgs |
| EPDMS01100 | EPDM 65 Rubber Strip 1.5mm x 100mm (10 L/M Rolls) | 0.2 kgs |
| EPDMS01150 | EPDM 65 Rubber Strip 1.5mm x 150mm (10 L/M Rolls) | 0.2 kgs |
| EPDMS01200 | EPDM 65 Rubber Strip 1.5mm x 200mm (10 L/M Rolls) | 0.3 kgs |
| EPDMS01250 | EPDM 65 Rubber Strip 1.5mm x 250mm (10 L/M Rolls) | 0.5 kgs |
| EPDMS01300 | EPDM 65 Rubber Strip 1.5mm x 300mm (10 L/M Rolls) | 0.6 kgs |
| EPDMS03025 | EPDM 65 Rubber Strip 3mm x 25mm (10 L/M Rolls) | 0.1 kgs |
| EPDMS03050 | EPDM 65 Rubber Strip 3mm x 50mm (10 L/M Rolls) | 0.2 kgs |
| EPDMS03075 | EPDM 65 Rubber Strip 3mm x 75mm (10 L/M Rolls) | 0.3 kgs |
| EPDMS03100 | EPDM 65 Rubber Strip 3mm x 100mm (10 L/M Rolls) | 0.4 kgs |
| EPDMS03150 | EPDM 65 Rubber Strip 3mm x 150mm (10 L/M Rolls) | 0.6 kgs |
| EPDMS03200 | EPDM 65 Rubber Strip 3mm x 200mm (10 L/M Rolls) | 0.8 kgs |
| EPDMS03250 | EPDM 65 Rubber Strip 3mm x 250mm (10 L/M Rolls) | 1 kgs |
| EPDMS03300 | EPDM 65 Rubber Strip 3mm x 300mm (10 L/M Rolls) | 1.2 kgs |
| EPDMS04050 | EPDM 65 Rubber Strip 4mm x 50mm (10 L/M Rolls) | 0.3 kgs |
| EPDMS04075 | EPDM 65 Rubber Strip 4mm x 75mm (10 L/M Rolls) | 0.4 kgs |
| EPDMS04100 | EPDM 65 Rubber Strip 4mm x 100mm (10 L/M Rolls) | 0.6 kgs |
| EPDMS4150 | EPDM 65 Rubber Strip 4mm x 150mm (10 L/M Rolls) | 0.9 kgs |
| EPDMS04200 | EPDM 65 Rubber Strip 4mm x 200mm (10 L/M Rolls) | 1.2 kgs |
| EPDMS04250 | EPDM 65 Rubber Strip 4mm x 250mm (10 L/M Rolls) | 1.5 kgs |
| EPDMS06025 | EPDM 65 Rubber Strip 6mm x 25mm (10 L/M Rolls) | 0.2 kgs |
| EPDMS06050 | EPDM 65 Rubber Strip 6mm x 50mm (10 L/M Rolls) | 0.4 kgs |
| EPDMS06075 | EPDM 65 Rubber Strip 6mm x 75mm (10 L/M Rolls) | 0.6 kgs |
| EPDMS6100 | EPDM 65 Rubber Strip 6mm x 100mm (10 L/M Rolls) | 0.7 kgs |
| EPDMS06150 | EPDM 65 Rubber Strip 6mm x 150mm (10 L/M Rolls) | 1 kgs |
| EPDMS06200 | EPDM 65 Rubber Strip 6mm x 200mm (10 L/M Rolls) | 1.5 kgs |
| EPDMS09050 | EPDM 65 Rubber Strip 9mm x 50mm (10 L/M Rolls) | 0.6 kgs |
| EPDMS09075 | EPDM 65 Rubber Strip 9mm x 75mm (10 L/M Rolls) | 0.8 kgs |
| EPDMS09100 | EPDM 65 Rubber Strip 9mm x 100mm (10 L/M Rolls) | 1.1 kgs |
| EPDMS09150 | EPDM 65 Rubber Strip 9mm x 150mm (10 L/M Rolls) | 1.7 kgs |
| EPDMS12050 | EPDM 65 Rubber Strip 12mm x 50mm (10 L/M Rolls) | 0.8 kgs |
| EPDMS12100 | EPDM 65 Rubber Strip 12mm x 100mm (10 L/M Rolls) | 1.5 kgs |