R-Line NBR Lining Rubber is a premium grade wear resistant Nitrile based rubber lining with a buffed back.
R-Line NBR is made from a premium Nitrile rubber compound and will display excellent resistance to oil and petroleum-based products including a range of fuels, greases, solvents and hydraulic fluids. It has low gas permeability and will display good water resistance. It is also resistant to vegetable oils, mineral oils and a range of aliphatic hydrocarbons.
R-Line NBR has excellent physical properties and will display good resistance to abrasion. It will also display good temperature resistance and moderate chemical resistance to some acids and alkalis.
R-Line NBR features a pre-buffed finish on one side to assist with adhesion when bonded to steel or rubber surfaces. It can be bonded using a wide range of Neoprene based rubber adhesives.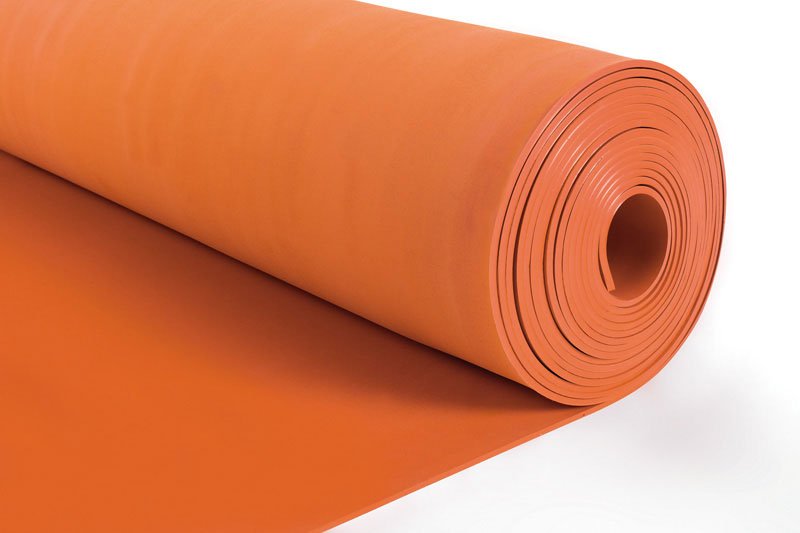 R-Line NBR Lining Rubber has been designed primarily for use as a wear protection lining system.
It is bonded to equipment to protect steel surfaces from abrasion.
It is predominantly used in Mineral processing, Agriculture and Manufacturing industries in applications which are subjected to a combination of abrasion and exposure to oils or oil based reagents.
It is typically used on the following: 
Tanks and pipework
Chemical pumps & impellors
Conveyor Pulleys
Transmission belt covers
Grain handling systems
R-Line NBR can also be used for any application which requires a flexible oil resistant rubber including:
Loading/discharge socks
Transfer and joining sleeves
Variety of sealing applications
TECHNICAL INFORMATION
Polymer
NBR
Colour
Orange with buffed back
Specific Gravity
1.15
ASTM D297
Hardness
55° ± 5° Shore A
ASTM D2240
Tensile Strength
12 MPa (min)
ASTM D412
Elongation @ Break
500% (min)
ASTM D412
Abrasion
150mm³ (max) @ 10N
ASTM D5963
Temperature Range
-20°C to + 110°C
Tear Strength
25 N/mm (min)
ASTM D5963
Oil Resistance
Volume Swell 72 hrs @ 70°C
OIL #1 - 3.2%
OIL #2 + 3.5%
OIL #3 + 7.5%
ASTM D471
AVAILABLE SIZES
Reglin stock R-line NRB Lining Rubber in a range of standard thicknesses and roll sizes.   It can also be supplied in cut lengths, strips, pads and a wide variety of custom cut shapes and gaskets to suit your application requirements.
| | | |
| --- | --- | --- |
| PART NUMBER | DESCRIPTION | WEIGHT (PER L/M) |
| REGBBN5503 | R-Line NRB 55 (Orange) with Buffed Back 3mm x 1200mm (10 L/M Rolls) | 4.2 kgs |
| REGBBN5506 | R-Line NRB 55 (Orange) with Buffed Back 6mm x 1200mm (10 L/M Rolls) | 8.3 kgs |