Reglin Natural Sponge is a wear and impact resistant open cell natural rubber sponge sheet. 
Reglin Natural Sponge Sheet is made from a premium natural rubber compound and will display good resistance to abrasion and impact.  It is open cell and features a solid textured skin on its surface.
Natural Sponge has good physical properties including mechanical strength.  It is resilient and features excellent compression recovery. It will also display excellent long term cushioning capability.
Natural sponge has ozone/UV resistance making it weather resistant and suitable for outdoor use.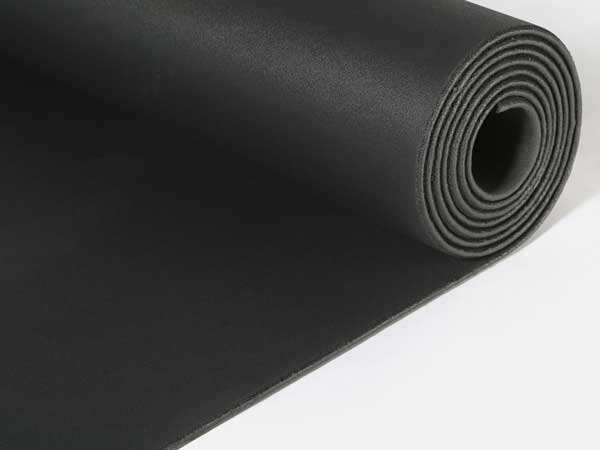 Reglin Natural Sponge Sheet has been designed primarily for use as a cushioning strip, pad, or lining.
It is typically used for sealing, insulating, isolating and protecting steel or other surfaces.
Natural sponge is suitable for use in applications with exposure to wear and continual cycles of moderate impact and compression.   It will maintain its cushioning ability and can protect fragile items from impact damage.
Natural Sponge is used across a wide range of industries.  Its properties make it suitable for a wide range of applications including:
Shock absorbing chute linings
Compressible seals
Expansion gap fillers
Die Ejection packers
Industrial Cushioning
Impact pads
Compressible drum lagging
Conveyor belt lagging
TECHNICAL INFORMATION
Polymer
NR
Colour
Black with fabric impression finish on both sides
Density
481 kg/m³
ASTM D297
Tensile Strength
600 kPa
ASTM D412
Elongation @ Break
200%
ASTM D412
Temperature Range
-30°C to +70°C
Compression Set 24 hrs @ 70°C
(@ 50% Deflection)
15% (max)
ASTM D1056
Compression Deflection @ 25% Compression
69-110 kPa
ASTM D1056
AVAILABLE SIZES
Reglin stock Natural Sponge Sheet in a range of standard thicknesses and roll sizes.   It can also be supplied in cut lengths, strips, pads and a wide variety of custom cut shapes and gaskets to suit your application requirements.
| | | |
| --- | --- | --- |
| PART NUMBER | DESCRIPTION | WEIGHT (PER L/M) |
| SPNG06 | Natural Sponge Sheet 6.4mm x 915mm (27.4 L/M Rolls) | 3.2 kgs |
| SPNG09 | Natural Sponge Sheet 9.5mm x 915mm (18.3 L/M Rolls) | 4.9 kgs |
| SPNG12 | Natural Sponge Sheet 12.7mm x 915mm (13.7 L/M Rolls) | 6.5 kgs |
| SPNG19 | Natural Sponge Sheet 19mm x 915mm (9.1 L/M Rolls) | 9.8 kgs |
| SPNG25 | Natural Sponge Sheet 25.4mm x 915mm (7.3 L/M Rolls) | 12.2 kgs |