Reglin Neoprene Sponge is an oil resistant closed cell neoprene sponge sheet.
Reglin Neoprene Sponge Sheet is made from an expanded premium Neoprene rubber compound and will display moderate temperature and flame resistance.  It is closed cell enabling it to create an easily compressible air and watertight seal.
Neoprene Sponge has good physical properties including mechanical strength. It has good ozone/UV resistance making it weather resistant and suitable for outdoor use.
Neoprene Sponge exhibits moderate resistance to oil and petroleum-based products including a range of fuels, greases, solvents and hydraulic fluids. It will also display some chemical resistance to acids and alkalis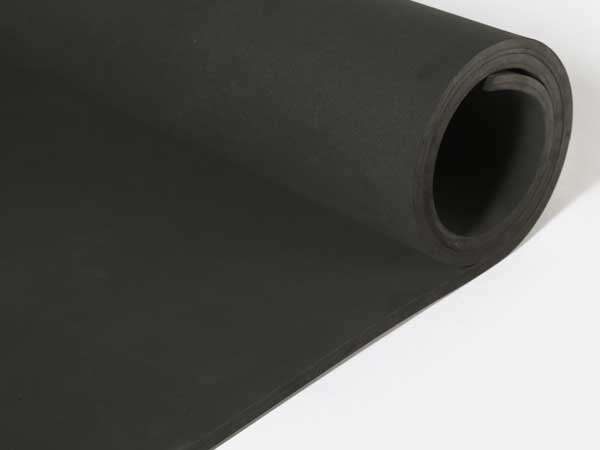 Reglin Neoprene Sponge has been designed primarily for use as a compressible strip, pad, gasket or lining.
It is typically used for sealing or insulating in long term applications with limited cycles of compression.
Neoprene sponge is suitable for use outdoors in applications with mild exposure to oils and petroleum-based products.
Neoprene Sponge is used across a wide range of industries.  Its properties make it suitable for a wide range of applications including.
Gaskets
Compressible Seals
Insulation barriers
Expansion joints
Energy & sound absorbers
Variety of sealing applications
TECHNICAL INFORMATION
Polymer
CR
Colour
Black
Density
158 kg/m³
KSM ISO 7214:2006
Hardness
48° ± 5° Shore 00
KSM 6660:2006
Tensile Strength
520 kPa
JIS K6767:1998
Elongation @ Break
150%
JIS K6767:1998
Temperature Range
-40°C to +90°C
Tear Strength
2.8 kN/m
ASTM D624
Compression Set 24 hrs @ 72°C
25% (max)
KSM ISO 1856:2002
Compression Deflection @ 25% Compression
48 kPa
ASTM D1056
Ozone Resistance
100 hrs @ 50pphm, 40°C
No Cracks
KSM 6518:2006
AVAILABLE SIZES
Reglin stock Neoprene Sponge Sheet in a range of standard thicknesses. Other thicknesses from 3mm to 50mm can also supplied upon request, short lead times will apply. It can also be supplied in cut lengths, strips, pads and a wide variety of custom cut shapes and gaskets to suit your application requirements.
| | | |
| --- | --- | --- |
| PART NUMBER | DESCRIPTION | WEIGHT (PER SHEET) |
| SPCR15403 | Neoprene Sponge Sheet CR154 3mm x 2000mm x 1000mm | 0.95 kgs |
| SPCR15406 | Neoprene Sponge Sheet CR154 6mm x 2000mm x 1000mm | 1.9 kgs |
| SPCR15410 | Neoprene Sponge Sheet CR154 10mm x 2000mm x 1000mm | 3.2 kgs |
| SPCR15412 | Neoprene Sponge Sheet CR154 12mm x 2000mm x 1000mm | 3.8 kgs |