Reglin Conveyor Slider bars are a premium grade UHMWPE bar with profiled T-Slot.
Reglin Conveyor Slider Bars are made from a high-grade low friction UHMWPE (Ultra High Molecular Weight Polyethylene).
Conveyor Slider Bars offer good wear life and reduced surface friction, ensuring conveyor belts can slide easily along them even under loading.
Reglin Conveyor Slider Bars feature T-Slots which allow for easy mechanical fastening to roller frames with an adaptor plate using T-Bolts.  Adaptor plates are also available to suit standard belt width trough rollers.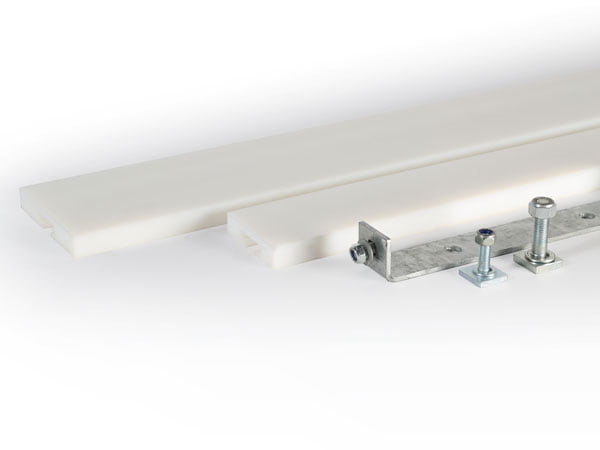 Reglin Slider Bars have been designed primarily for use at conveyor transfer and loading zones.
They are installed into roller frames or other structures positioned under conveyor belts at loading points.
Reglin Slider bars are typically used in the Mining, Quarrying and mineral processing industries. They are designed to support conveyors through loading zones.
They are used to replace rollers and to ensure stability of the conveyor belt, reducing spillage and dust escaping.
Reglin Slider Bars are versatile and can be used in many standard roller frame designs or can be installed directly onto conveyor system structures.
TECHNICAL INFORMATION
| | | |
| --- | --- | --- |
| Polymer | UHMWPE | |
| Colour | White | |
| Specific Gravity | 0.935 | ASTM D297 |
| Hardness | 66 Shore D | ASTM D2240 |
AVAILABLE SIZES
Reglin Stock Conveyor Slider bars and adaptor plates in a range of standard sizes.  Slider bars can also be supplied cut to length to suit specific loading zone requirements.
| | | |
| --- | --- | --- |
| PART NUMBER | DESCRIPTION | WEIGHT (EACH) |
| SB0100 | Slider Bar (UHMWPE) 25mm x 100mm x 2000mm C/W Routed T-Track Slot | 3.8 kgs |
| SB0150 | Slider Bar (UHMWPE) 25mm x 150mm x 2000mm C/W Routed T-Track Slot | 6.2 kgs |
| SBA0600 | Slider Bar Adaptor to Suit 600mm | 10.2 kgs |
| SBA0750 | Slider Bar Adaptor to Suit 750mm | 10.2 kgs |
| SBA0900 | Slider Bar Adaptor to Suit 900mm | 10.2 kgs |
| SBA1200 | Slider Bar Adaptor to Suit 1200mm | 10.2 kgs |