Nitrile Diaphragm Rubber Sheet
Reglin Nitrile Diaphragm is a premium grade oil and fuel resistant rubber sheet with nylon reinforcement.
Reglin Nitrile Diaphragm rubber sheet is made from a premium Nitrile rubber compound and will display excellent resistance to oil and petroleum-based products including a range of fuels, greases, solvents and hydraulic fluids.
Nitrile Diaphragm is reinforced with a specifically designed nylon fabric to give a high burst strength and a good flex life. This fabric also gives improved tear strength and dimensional stability.
Nitrile Diaphragm has low gas permeability and will display good water resistance.  It is also resistant to mineral oils and a range of aliphatic hydrocarbons.
Nitrile Diaphragm has excellent physical properties including mechanical strength and abrasion resistance. It will also display good temperature resistance and moderate chemical resistance to some acids and alkalis.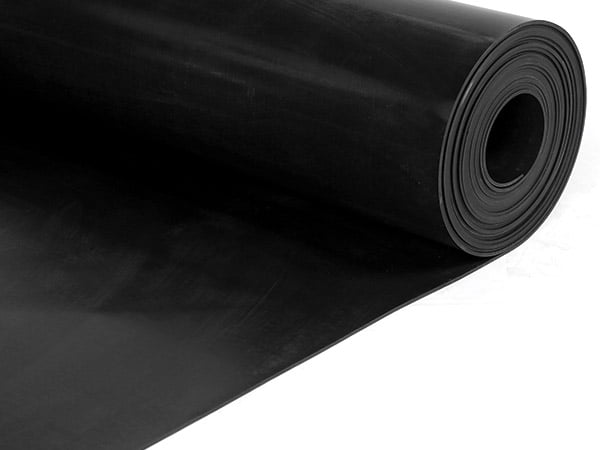 Reglin Nitrile Diaphragm Rubber Sheet has been designed primarily for use as a flexible rubber sealing diaphragm.
It is typically used for sealing in a range of flow control equipment.
Nitrile Diaphragm is suitable for use in applications with long term exposure to oils and petroleum-based products such as grease, hydraulic fluid and a range of fuels and solvents.
Its properties make it suitable for use as a diagram in a range of equipment including:
Diesel and fuel pumps
Valves
Gas control equipment
Metering equipment
Solenoids
LPG and Methane gas Actuators
Regulators
Nitrile Diaphragm can also be used for any application which requires a tear resistant flexible oil resistant Nitrile rubber such as transfer sleeves and expansion joints.
TECHNICAL INFORMATION
| | | |
| --- | --- | --- |
| Polymer | NBR | |
| Reinforcement | Nylon | |
| Colour | Black | |
| Specific Gravity | 1.30 | ASTM D297 |
| Hardness | 70° ± 5° Shore A | ASTM D2240 |
| Tensile Strength | 13 MPa (min) | ASTM D412 |
| Elongation @ Break | 500% (min) | ASTM D412 |
| Temperature Range | -40°C to +100°C | |
AVAILABLE SIZES
Reglin stock Nitrile Diaphragm Rubber Sheet in a range of standard thicknesses and roll sizes.   It can also be supplied in cut lengths, strips, pads and a wide variety of custom cut shapes and gaskets to suit your application requirements.
| | | |
| --- | --- | --- |
| PART NUMBER | DESCRIPTION | WEIGHT (PER L/M) |
| NITRDIA0.3 | Nitrile Diaphragm Rubber Sheet 0.3mm x 1450mm (10 L/M Rolls) | 0.6 kgs |
| NITRDIA0.4 | Nitrile Diaphragm Rubber Sheet 0.4mm x 1450mm (10 L/M Rolls) | 0.8 kgs |
| NITRDIA0.5 | Nitrile Diaphragm Rubber Sheet 0.5mm x 1450mm (10 L/M Rolls) | 1 kgs |
| NITRDIA0.6 | Nitrile Diaphragm Rubber Sheet 0.65mm x 1450mm (10 L/M Rolls) | 1.3 kgs |
| NITRDIA0.8 | Nitrile Diaphragm Rubber Sheet 0.8mm x 1450mm (10 L/M Rolls) | 1.5 kgs |
| NITRDIA1.0 | Nitrile Diaphragm Rubber Sheet 1.0mm x 1450mm (10 L/M Rolls) | 1.9 kgs |
| NITRDIA1.5 | Nitrile Diaphragm Rubber Sheet 1.5mm x 1450mm (10 L/M Rolls) | 2.9 kgs |
| NITRDIA2.0 | Nitrile Diaphragm Rubber Sheet 2.0mm x 1450mm (10 L/M Rolls) | 3.8 kgs |