Chutex 40 is a premium grade wear and tear resistant 40 Duro natural rubber strip.
Chutex 40 Rubber strips are made from a highly elastic premium natural rubber compound and will display excellent resistance to wet slurry and fine particle sliding abrasion.
Chutex 40 has excellent physical properties including cut and tear resistance and is extremely flexible.  It will also display resistance to some mild chemicals, including acids and alkalis used in mineral processing.
For further technical information please see Chutex 40 Rubber Sheet.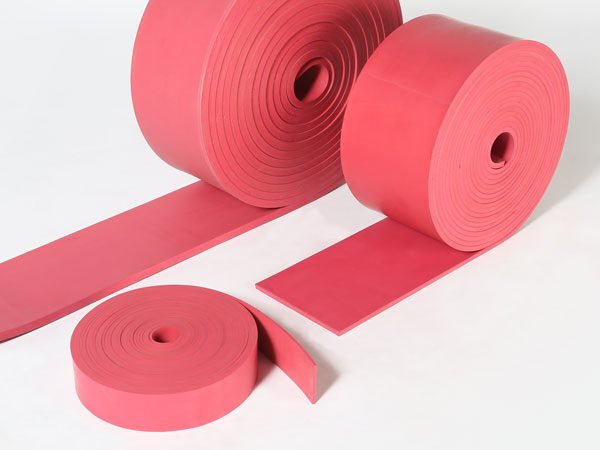 Reglin stock Chutex 40 Rubber Strips in a range of thicknesses and widths. Strips can also be supplied in custom cut widths and lengths to suit your application requirements.
| | | |
| --- | --- | --- |
| PART NUMBER | DESCRIPTION | WEIGHT(PER L/M) |
| CHXS01050 | Chutex 40 Rubber Strip 1.5mm x 50mm (10 L/M Rolls) | 0.1 kgs |
| CHXS01075 | Chutex 40 Rubber Strip 1.5mm x 75mm (10 L/M Rolls) | 0.2 kgs |
| CHXS01100 | Chutex 40 Rubber Strip 1.5mm x 100mm (10 L/M Rolls) | 0.2 kgs |
| CHXS01150 | Chutex 40 Rubber Strip 1.5mm x 150mm (10 L/M Rolls) | 0.3 kgs |
| CHXS01200 | Chutex 40 Rubber Strip 1.5mm x 200mm (10 L/M Rolls) | 0.3 kgs |
| CHXS01250 | Chutex 40 Rubber Strip 1.5mm x 250mm (10 L/M Rolls) | 0.4 kgs |
| CHXS01300 | Chutex 40 Rubber Strip 1.5mm x 300mm (10 L/M Rolls) | 0.5 kgs |
| CHXS03050 | Chutex 40 Rubber Strip 3mm x 50mm (10 L/M Rolls) | 0.2 kgs |
| CHXS03075 | Chutex 40 Rubber Strip 3mm x 75mm (10 L/M Rolls) | 0.3 kgs |
| CHXS03100 | Chutex 40 Rubber Strip 3mm x 100mm (10 L/M Rolls) | 0.3 kgs |
| CHXS03150 | Chutex 40 Rubber Strip 3mm x 150mm (10 L/M Rolls) | 0.5 kgs |
| CHXS03200 | Chutex 40 Rubber Strip 3mm x 200mm (10 L/M Rolls) | 0.7 kgs |
| CHXS03250 | Chutex 40 Rubber Strip 3mm x 250mm (10 L/M Rolls) | 1 kgs |
| CHXS03300 | Chutex 40 Rubber Strip 3mm x 300mm (10 L/M Rolls) | 1.2 kgs |
| CHXS04050 | Chutex 40 Rubber Strip 4.5mm x 50mm (10 L/M Rolls) | 0.3 kgs |
| CHXS04075 | Chutex 40 Rubber Strip 4.5mm x 75mm (10 L/M Rolls) | 0.4 kgs |
| CHXS04100 | Chutex 40 Rubber Strip 4.5mm x 100mm (10 L/M Rolls) | 0.5 kgs |
| CHXS04150 | Chutex 40 Rubber Strip 4.5mm x 150mm (10 L/M Rolls) | 1 kgs |
| CHXS04200 | Chutex 40 Rubber Strip 4.5mm x 200mm (10 L/M Rolls) | 1 kgs |
| CHXS04250 | Chutex 40 Rubber Strip 4.5mm x 250mm (10 L/M Rolls) | 1.2 kgs |
| CHXS04300 | Chutex 40 Rubber Strip 4.5mm x 300mm (10 L/M Rolls) | 1.6 kgs |
| CHXS06050 | Chutex 40 Rubber Strip 6mm x 50mm (10 L/M Rolls) | 0.4 kgs |
| CHXS06075 | Chutex 40 Rubber Strip 6mm x 75mm (10 L/M Rolls) | 0.5 kgs |
| CHXS06100 | Chutex 40 Rubber Strip 6mm x 100mm (10 L/M Rolls) | 0.6 kgs |
| CHXS06150 | Chutex 40 Rubber Strip 6mm x 150mm (10 L/M Rolls) | 1 kgs |
| CHXS06200 | Chutex 40 Rubber Strip 6mm x 200mm (10 L/M Rolls) | 1.3 kgs |
| CHXS06250 | Chutex 40 Rubber Strip 6mm x 250mm (10 L/M Rolls) | 1.6 kgs |
| CHXS06300 | Chutex 40 Rubber Strip 6mm x 300mm (10 L/M Rolls) | 1.9 kgs |
| CHXS09050 | Chutex 40 Rubber Strip 9mm x 50mm (10 L/M Rolls) | 0.5 kgs |
| CHXS09075 | Chutex 40 Rubber Strip 9mm x 75mm (10 L/M Rolls) | 0.7 kgs |
| CHXS09100 | Chutex 40 Rubber Strip 9mm x 100mm (10 L/M Rolls) | 0.9 kgs |
| CHXS09150 | Chutex 40 Rubber Strip 9mm x 150mm (10 L/M Rolls) | 1.4 kgs |
| CHXS09200 | Chutex 40 Rubber Strip 9mm x 200mm (10 L/M Rolls) | 1.9 kgs |
| CHXS09250 | Chutex 40 Rubber Strip 9mm x 250mm (10 L/M Rolls) | 2.4 kgs |
| CHXS09300 | Chutex 40 Rubber Strip 9mm x 300mm (10 L/M Rolls) | 2.9 kgs |
| CHXS12075 | Chutex 40 Rubber Strip 12mm x 75mm (10 L/M Rolls) | 1 kgs |
| CHXS12100 | Chutex 40 Rubber Strip 12mm x 100mm (10 L/M Rolls) | 1.3 kgs |
| CHXS12150 | Chutex 40 Rubber Strip 12mm x 150mm (10 L/M Rolls) | 1.9 kgs |
| CHXS12200 | Chutex 40 Rubber Strip 12mm x 200mm (10 L/M Rolls) | 2.5 kgs |
| CHXS12250 | Chutex 40 Rubber Strip 12mm x 250mm (10 L/M Rolls) | 3.1 kgs |
| CHXS12300 | Chutex 40 Rubber Strip 12mm x 300mm (10 L/M Rolls) | 3.7 kgs |