Reglin Sandwich Skirting Rubber is a flexible wear resistant multi layered 40 and 60 Duro rubber designed for use as a conveyor sealing skirt.
Sandwich Skirting Rubber is made from a combination of highly elastic premium rubber compounds.  It features a green soft and flexible 40 Duro abrasion resistant centre core and black 60 Duro wear and impact resistant outer layers.
Sandwich Skirting Rubber has excellent physical properties including cut and tear resistance.  It features a beveled edge and is designed to adjust above the conveyor belt and create a firm seal once adjusted.
Sandwich Skirting is rigid enough to create a solid impact resistant sealing skirt which reduces both material spillage and dust escaping.  This will pro-long the life of the skirt and also minimizes the potential of wear and damage to the conveyor belt and surrounding structure.
Sandwich Skirting Rubber can be supplied in full rolls or pre-cut skirting rubber strips to suit standard conveyor system designs, ready for easy installation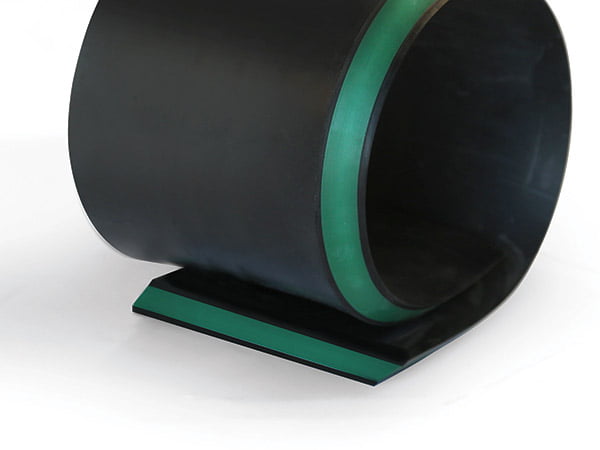 Reglin Sandwich Skirting Rubber has been designed primarily for use as a containment seal.
Sandwich Skirting is ideal for applications with high wear and impact where a rigid and long-lasting skirting seal is required.
It is installed on conveyor equipment as a sealing skirt at loading and transfer points to reduce spillage and dust emissions.
Sandwich skirting rubber's dual layer design and premium quality will offer greater longevity than standard skirting in most installations
TECHNICAL INFORMATION
CENTRE CORE LAYER
Polymer
NR
Colour
Green
Specific Gravity
1.07
ASTM D297
Hardness
40° ± 5° Shore A
ASTM D2240
Tensile Strength
20 MPa (min)
ASTM D412
Elongation @ Break
600% (min)
ASTM D412
Abrasion
120 mm³ (max) @ 5N
ASTM D5963
Temperature Range
-20°C to + 70°C
Tear Strength
50 N/mm (min)
ASTM D624
OUTER LAYERS
Polymer
NR
Colour
Black
Specific Gravity
1.13
ASTM D297
Hardness
65° ± 5° Shore A
ASTM D2240
Abrasion
80 mm³ (max) @ 10N
ASTM D5963
Tensile Strength
17 MPa (min)
ASTM D412
Elongation @ Break
350% (min)
ASTM D412
AVAILABLE SIZES
Reglin stock Sandwich Skirting Rubber in a standard thickness and roll size.  It can be custom cut and supplied in any strip width with 45 degree bevels on both sides.
| | | |
| --- | --- | --- |
| PART NUMBER | DESCRIPTION | WEIGHT (PER L/M) |
| CSR201500 | Sandwich Skirting 20mm x 1500mm (30 L/M Rolls) | 33.7 kgs |