Regline WB Rubber Wear Bars
Regline WB Rubber Wear Bars are a premium grade wear and impact resistant 70 Duro rubber bar with embedded aluminum T-Track.
Regline WB Rubber Wear Bars are made from a highly elastic premium rubber compound and will display excellent resistance to sliding abrasion and large particle impact.
Regline WB Rubber Wear Bars will absorb energy from the impact of materials.  Offering superior wear protection for your equipment and also reducing vibration and lowering noise levels and dust emissions.
Regline WB Rubber Wear Bars are supplied with aluminum T-Tracks for added stability.  They are lightweight and allow for strong and easy mechanical fastening to equipment.
Regline WB Rubber Wear Bars can be supplied as a custom engineered wear protection rubber lining system for your equipment.  They are suitable for high wear and moderate impact applications.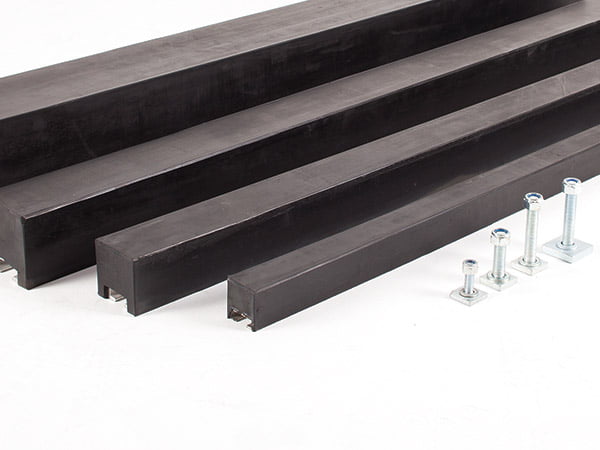 Regline WB Rubber Wear Bars have been designed primarily for use as a wear protection rubber lining system.
They are installed into equipment to protect steel surfaces from abrasion and impact. They are predominantly used in the Mining, Quarrying and Mineral processing industries, typically on the following equipment:
Chutes and feed spots
Rock boxes
Hoppers and surge bins
Launders
Cyclones
Feeders
Screens
Mills and Scrubber Mills
Trunnions
Conveyor transfer chutes and Deflector plates
Regline WB Rubber Wear Bars can also be used for any application which requires a mechanically fastened wear and impact resistant rubber bar including:
Lifter bars in mills and scrubbers
Centre clamp bars in screens
Marine and transport docking fenders
Anti-vibration mounts
TECHNICAL INFORMATION
| | | |
| --- | --- | --- |
| Polymer | NR/BR | |
| Colour | Black with aluminum track | |
| Specific Gravity | 1.13 | ASTM D297 |
| Hardness | 70° ± 5° Shore A | ASTM D2240 |
| Abrasion | 80 mm³ (max) @ 10N | ASTM D5963 |
| Tensile Strength | 17 MPa (min) | ASTM D412 |
| Elongation @ Break | 350% (min) | ASTM D412 |
| Temperature Range | -20°C to +70°C | |
AVAILABLE SIZES
Reglin stock WB Rubber Wear bars in a range of standard sizes.  They are supplied with embedded Aluminum T-tracks designed to be fastened with T-Bolt assemblies.  See Available T-Bolts.  They can be supplied custom cut as per specifications and drawings.
Reglin can also custom mould rubber bars to suit your specific requirements.  See Custom moulded Rubber liners.
| | | |
| --- | --- | --- |
| PART NUMBER | DESCRIPTION | WEIGHT (EACH) |
| WB050050 | Regline WB Rubber Wear / Lifter Bar 50mm x 50mm x 1500mm with AL-44 T-Track | 4.1 kgs |
| WB075075 | Regline WB Rubber Wear / Lifter Bar 75mm x 75mm x 1500mm with AL-65 T-Track | 10.3 kgs |
| WB100100 | Regline WB Rubber Wear / Lifter Bar 100mm x 100mm x 1500mm with AL-90 T-Track | 18.4 kgs |
| WB150150 | Regline WB Rubber Wear / Lifter Bar 150mm x 150mm x 1500mm with AL-140 T-Track | 40.2 kgs |