Reglin Ute Matting is a profiled rubber matting designed for use as an anti-slip mat.
Reglin Ute Matting is made from a synthetic rubber compound and will display good physical properties.
Ute Matting is durable and features a textured profile finish on its top surface to ensure it is non-slip in both wet and dry conditions.
It has holes and a profiled finish on the underside to allow for water drainage and to ensure there is no moisture build-up under the matting.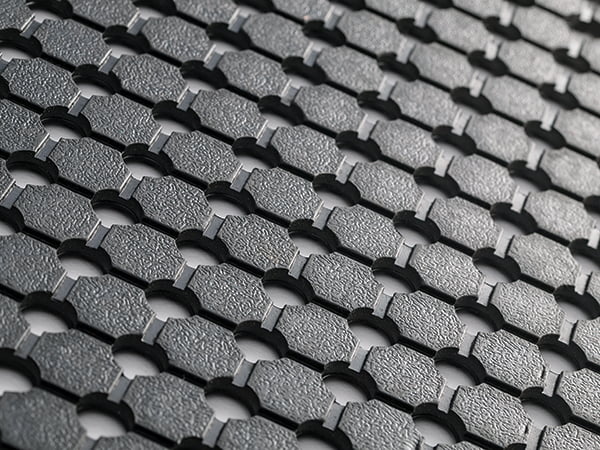 Reglin Ute Matting has been primarily designed for use as a non-slip rubber matting for vehicles.
It is typically used to create an anti-slip surface in areas that are carrying cargo.
Ute Matting is specifically designed to stop cargo from moving, protecting it and the vehicle itself from damage.
Its properties and profiled design make it suitable for a range of applications including:
It can also be used for any application which requires a durable, draining rubber matting.
TECHNICAL INFORMATION
| | | |
| --- | --- | --- |
| Polymer | SBR | |
| Colour | Black | |
| Specific Gravity | 1.5 | ASTM D297 |
| Hardness | 65° ± 5° Shore A | ASTM D2240 |
| Tensile Strength | 3.5 MPa (min) | ASTM D412 |
| Elongation @ Break | 250% (min) | ASTM D412 |
| Temperature Range | 0°C to +65°C | |
AVAILABLE SIZES
Reglin stock Ute Matting in an industry standard thickness and roll size.
| | | |
| --- | --- | --- |
| PART NUMBER | DESCRIPTION | WEIGHT (PER L/M) |
| UM10 | Ute Mat 10mm x 1830mm (10 L/M Rolls) | 16 kgs |