Reglin Capping Rubber is premium grade wear resistant rubber profile designed to cover steel stringer bars to protect screen cloths from wear and damage.
Reglin Capping Rubber is made from a premium EPDM rubber compound and will display good resistance to abrasion and impact.
Capping Rubber has excellent physical properties and will display good UV resistance making it weather resistant and suitable for outdoor use.
Capping Rubber is available is a range of different profiles to suit standard stringer bar sizes.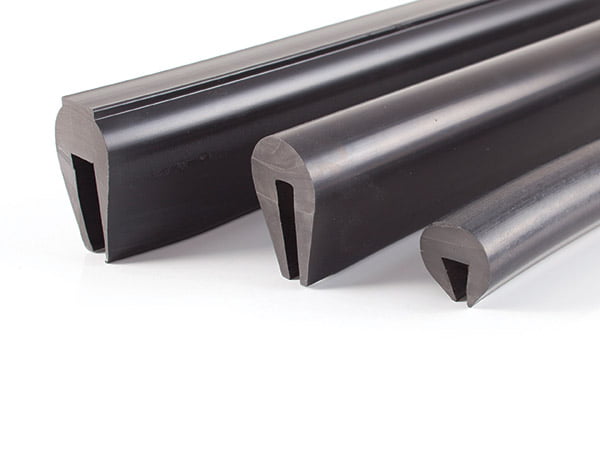 Capping Rubber has been primarily designed for use as wear protection system.
It is installed as a capping on steel stringer bars in screening equipment to support the screen cloth and reduce wear.
Capping Rubber is predominantly used in the Mining and Quarrying Industries on vibrating screens.
It protects both the stringer bars and screen cloth from abrasion and impact damage.
TECHNICAL INFORMATION
| | | |
| --- | --- | --- |
| Polymer | EPDM | |
| Colour | Black | |
| Specific Gravity | 1.20 | ASTM D297 |
| Hardness | 75° ± 5° Shore A | ASTM D2240 |
| Tensile Strength | 10 MPa (min) | ASTM D412 |
| Elongation @ Break | 400% (min) | ASTM D412 |
| Temperature Range | 30°C to + 100°C | |
AVAILABLE SIZES
Reglin stock Capping Rubber in a range of standard profiles.  We can also supply custom profiles upon request.   Minimum order quantities and lead times apply to custom made capping rubber.
| | | |
| --- | --- | --- |
| PART NUMBER | DESCRIPTION | WEIGHT (PER L/M) |
| CR01 | Capping Rubber R01 Square Top Long Leg 55mm Long to Suit 12mm Bar (20 L/M Rolls) | 1.5 kgs |
| CR02 | Capping Rubber R02 Round Top Long Leg 50mm Long to Suit 10mm Bar (20 L/M Rolls) | 1.2 kgs |
| CR05 | Capping Rubber R05 Round Top Short Leg 25mm Long to Suit 12mm Bar (20 L/M Rolls) | 0.7 kgs |
| CR06 | Capping Rubber R06 Round Top Short Leg 25mm Long to Suit 10mm Bar (20 L/M Rolls | 0.5 kgs |
| CR07 | Capping Rubber R07 Square Top Long Leg 55mm Long to Suit 16mm Bar (20 L/M Rolls) | 1.8 kgs |