Reglin Rubber Grip Strip is a premium grade flexible rubber profile designed to clamp rubber dust sealing cloth to seal equipment for dust encapsulation.
Grip Strip is made from a premium EPDM rubber compound.  It has excellent physical properties and will display good UV resistance making it weather resistant and suitable for outdoor use.
Grip Strip is designed to clamp Rubber Dust Sealing Cloth onto a 10mm steel round bar which is mounted on equipment structures.  This creates a totally encapsulated dust sealing system that allows for movement between different parts of equipment.
Grip Strip is resilient and can be removed and reinstalled multiple times to allow for inspections or when rubber dust sealing cloth replacement is required.
Grip strip is available in straight lengths or pre-formed corners for use on bends.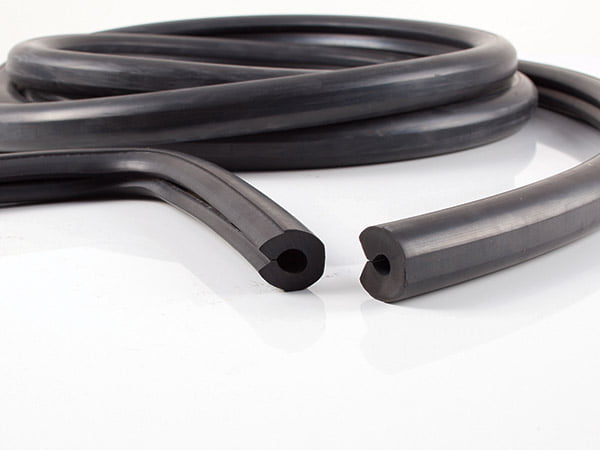 Reglin Rubber Grip Strip has been designed for use in combination with Rubber dust sealing cloth as a sealing system. 
It is installed on equipment to seal it and encapsulate dust, reducing emissions to the environment.
It is predominantly used on equipment in the Mining, Quarrying and Mineral processing industries, typically on the following equipment:
Screens
Feeders
Crushers
Conveyors systems
Transfer chutes
TECHNICAL INFORMATION
| | | |
| --- | --- | --- |
| Polymer | EPDM | |
| Colour | Black | |
| Specific Gravity | 1.20 | ASTM D297 |
| Hardness | 70° ± 5° Shore A | ASTM D2240 |
| Tensile Strength | 10 MPa (min) | ASTM D412 |
| Elongation @ Break | 400% (min) | ASTM D412 |
| Temperature Range | 30°C to + 100°C | |
| | | |
| --- | --- | --- |
| PART NUMBER | DESCRIPTION | WEIGHT |
| GS10-07 | Grip Strip Straight 10mm Dia Bar (7 L/M Rolls) | 1 kg (per L/M) |
| GS10-20 | Grip Strip Straight 10mm Dia Bar (20 L/M Rolls) | 1 kg (per L/M) |
| GS10IG | Grip Strip Corner 10mm Dia Bar 250mm x 250mm (Inside Groove) | 0.4 kgs (each) |
| GS10OG | Grip Strip Corner 10mm Dia Bar 250mm x 250mm (Outside Groove) | 0.4 kgs (each) |
| GS10UG | Grip Strip Corner 10mm Dia Bar 250mm x 250mm (Underside Groove) | 0.4 kgs (each) |