Reglin Rubber Screen Cloths are a premium grade wear and impact resistant 70 Duro rubber screen mat.
Reglin Rubber Screen Cloths are made from a highly elastic premium rubber compound and will display excellent resistance to sliding abrasion and large particle impact.
Rubber Screen Cloths will absorb energy from the impact of materials. Offering superior wear resistance and long service life, whilst reducing vibration and lowering noise levels and dust emissions.
Reglin Rubber Screen Cloths are reinforced with a special heat-treated cord for added stability in the most demanding of applications.  This cord enables correct tensioning of the screen mat when installed and maintains this tension during service, eliminating the need for constant adjustment.
Rubber Screen Cloths feature tensioning hooks and protection strips as standard.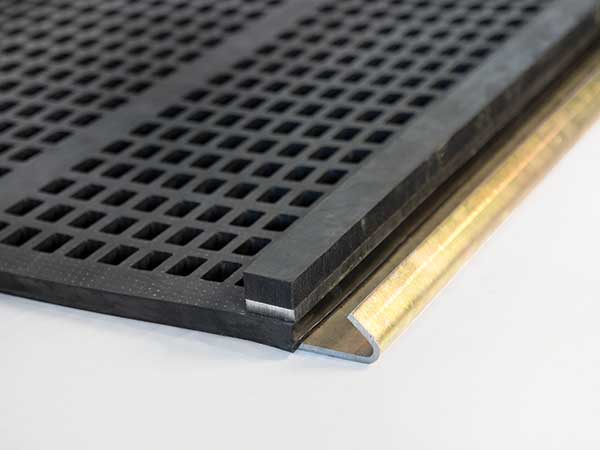 Rubber Screen Cloths have been primarily designed for use as a screen media in Cross tensioned and End tensioned screening systems.
They are installed into screening equipment by using a hook and Side Clamp Bar tensioning system.  For wider screens, Centre Hold Down Bars should also be used to clamp down the center of the screen.
Rubber Screen Cloths are predominantly used in the Mining and Quarrying Industries in both wet and dry screening applications with high wear and impact.
Rubber Screen Cloths are suitable for fine to coarse screening sizes and offer excellent performance and wear life in heavy duty scalping applications with hard and sharp rock materials.
TECHNICAL INFORMATION
Polymer
NR/BR
Reinforcement
Polyester Cord
1100 dtex /1/3 118 EPD
Colour
Black
Specific Gravity
1.13
ASTM D297
Hardness
70° ± 5° Shore A
ASTM D2240
Tensile Strength
17 MPa (min)
ASTM D412
Elongation @ Break
350% (min)
ASTM D412
Abrasion
80mm³ (max) @ 10N
ASTM D5963
Temperature Range
-20°C to + 70°C
AVAILABLE SIZES
Reglin Rubber Screen Cloths are custom made to suit any screening equipment.  They are available in a range of standard thicknesses; 3, 5, 7, 10, 15, 20, 25, 35, 50mm and can be supplied in any width up to 1525mm.
Rubber Screen Cloths can be custom cut to any length and supplied with apertures to suit your screening requirements.  All Screen cloths come complete with hooks to suit your screen.