FEATURES
Reglin Rubber Drill Rod Seals are a custom made rubber sealing gasket designed for use in Drilling Rig diverter boxes. Reglin Rubber Drill Rod Seals are primarily made from our premium highly flexible, wear and tear resistant Chutex 40 Rubber. The flexibility of premium Chutex 40 rubber allows the drill head to penetrate without tearing the seal, whilst still creating a capping seal on the drill rod. The premium quality rubber of the seal lasts longer under the constant abrasion effects of the sliding rod during drilling, compared to those of lesser rubber quality.
Other premium rubber compounds are also available upon request or if better suited to the application.
Technical Information
| | | |
| --- | --- | --- |
| Polymer | NBR | |
| Colour | Pink with smooth back | |
| Specific Gravity | 1.05 | ASTM D297 |
| Hardness | 40° ± 5° Shore A | ASTM D2240 |
| Abrasion | 95mm³ (max) @ 5N | ASTM D5963 |
| Tensile Strength | 18 MPa (min) | ASTM D412 |
| Elongation @ Break | 550% (min) | ASTM D412 |
| Tear Strength | 60 N/mm (min) | ASTM D624 |
| Temperature Range | -20°C to + 70°C | |
Available Sizes
| | |
| --- | --- |
| STANDARD THICKNESS | 6mm, 9mm, 12mm, 16mm, 19mm, 25mm |
| SEAL SIZES | Drill Rod Seals can be supplied custom cut to the exact profile required to suit your diverter box and drill pipe size. |
Drill Rod seals can be supplied in thicker seals made from laminated sheets.
Drill Rod seals can be supplied with steel backing frame upon request.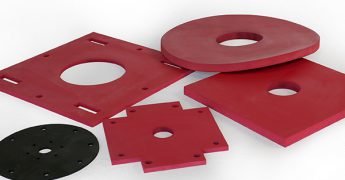 Applications
Reglin Rubber Drill Rod seals are designed to seal against the drill rod to deflect unwanted drilled ore materials and to stop them from escaping, reducing both environmental and safety issues for operators. Rubber Drill Rod Seals are designed to wipe the drill rod pipe as it is lowered and raised throughout the drilling process and is crucial to the sealing process during drilling. Changing out of these drill rod seals can often be difficult to perform and time consuming, causing unwanted downtime.
Reglin Premium Chutex 40 Drill Rod seals last longer, which means less required drill rod seal change-outs, reducing downtime and increasing the productivity of your drill rig.
Industries