Rubber dust sealing system encapsulates dust on feeder transfer point
Reglin Rubber Dust Sealing Cloth and Grip Strip were used to create an effective dust sealing system between an existing chute and vibrating feeder.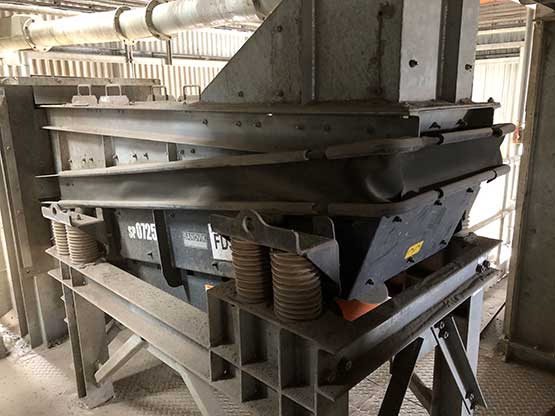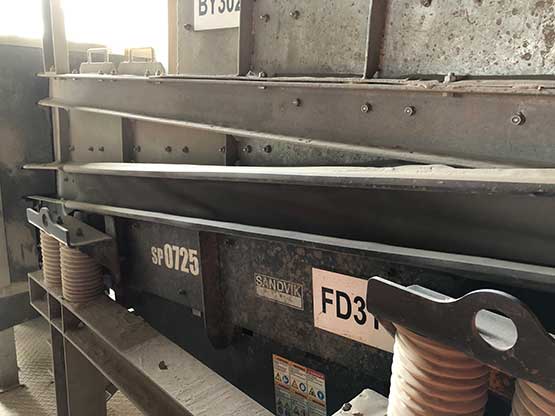 To install a dust encapsulation system at an open transfer point on existing equipment.
Dust emissions were identified at the Quarry site as exceeding acceptable levels for its air quality management system.  This was posing both a health and safety risk for employees and was potentially harmful to the environment. Open transfer points on handing and processing equipment were identified as a major source of the problem.
Vibrating feeders are used on the site to ensure material flow from fixed chutes and hoppers.  The movement of these feeders requires clearance around them from other stationary equipment thus creating open transfer points.  The vibration of the dry ore as it passes through the feeder generates a large volume of dust which then in turn escapes back through these open areas.
To encapsulate this dust, a sealing system was required on the open transfer point between the fixed chute above and the vibrating feeder itself.  The system needed to be flexible to allow movement of the feeder and removable to permit access to the feeder for inspections, cleaning or repairs.
A Reglin Rubber Dust sealing system was installed onto existing equipment which created a dust encapsulation system reducing dust emissions.
Reglin supplied its standard stocked rubber sealing components which were installed onto existing equipment at the site.  For installation only minor mechanical modifications were required to the equipment, with a 10mm steel round bar being added to the bottom flange of the fixed chute. This allowed the Rubber Dust sealing cloth to be successfully clamped using Rubber Grip Strip and Elbows.
The Rubber dust sealing system was strong and flexible enough to allow for movement from the vibration of the feeder, and was lightweight enough not to affect its operation.
The simplicity of the system also allows for easy removal and re-installation for inspections and replacement when the Dust cloth becomes worn or damaged.
The result of using the Reglin Rubber Dust sealing system to seal the open transfer point was an effective solution. Dust emissions from the feeders were greatly reduced.  This offered value to the customer, improving health and safety conditions for its employees and also reducing ongoing cleaning and maintenance requirements and costs.