Rubber Chute Skirt Liners seal and protect conveyor loading zone
Custom made Regline Rubber Chute Skirt liners were installed on existing skirt board to seal open gap and protect skirt board structure from wear and impact.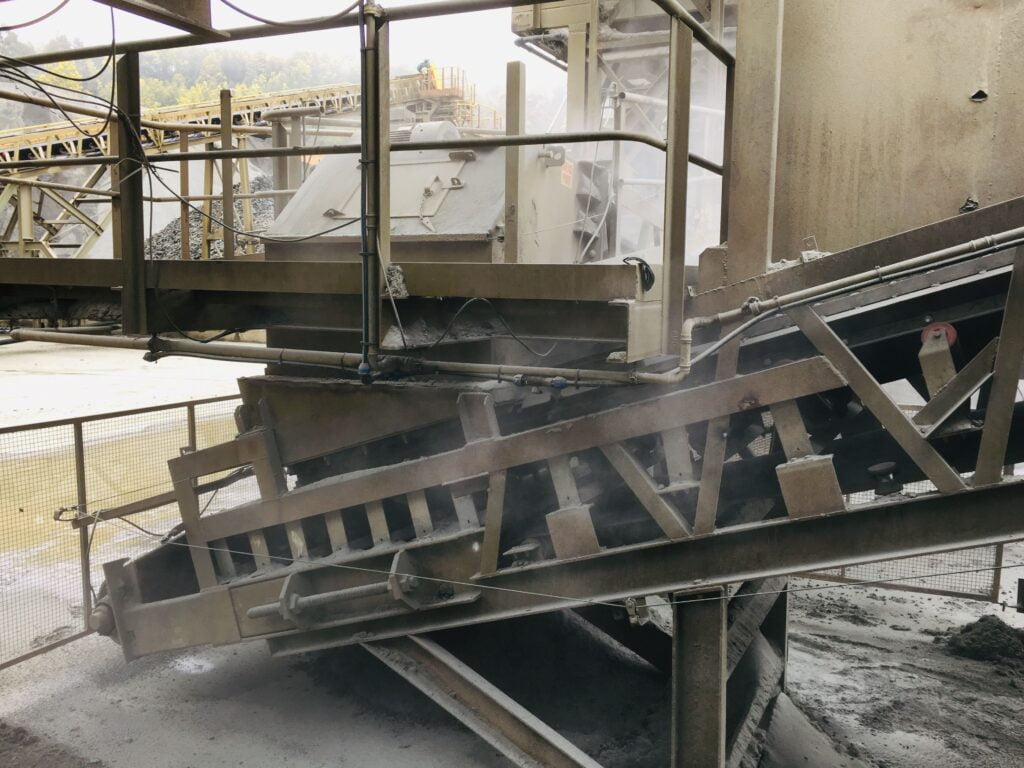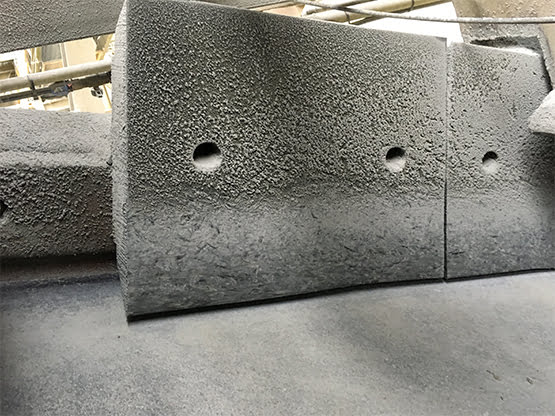 To stop material spillage and suppress dust at a conveyor system transfer chute carrying 20mm minus hard rock aggregate.
Heavy spillage and dust emissions were occurring at a conveyor transfer point through the open gap between the loading chute and conveyor belt.  The transfer chute was loaded from another conveyor from the side, so all ore was impacting the chute wall and skirt board directly at 90 degrees.
This direct material impact was causing severe damage to the skirting, causing blow-outs and creating the open gap.  Multiple heavy-duty skirting types including rubber and polyurethane skirting were trialed but couldn't withstand with impact forces.  So costly regular skirting change-outs were required in an attempt to the reduce spillage and dust emissions.
A liner system was required that could seal this open gap and withstand the direct impact forces of the aggregate.  The chute and conveyor system intersected at angles and the conveyor belt was only supported by rollers, so the solution needed to be adjustable along the length of the loading zone.
Custom designed steel backed Regline Rubber Chute Skirt liners were installed onto the existing skirt-board structure in the impact zone.
Reglin designed and supplied custom steel backed rubber chute skirt liners to suit the existing conveyor system structure.  These were mechanically fastened onto the chute skirt board in short sections so they could be individually adjusted down to the conveyor belt surface.  The short sections also made them easy to install and gives the flexibility to replace only the worn sections when liners replacements are required.
The steel backed Rubber Chute skirt liners were successful in the application.  The steel backing gave the liners the rigidity required to effectively close the gap between the skirt board and conveyor belt and the premium rubber compound displayed excellent abrasion resistance to the aggregate.
The elastic properties of the rubber wear liners also gave them the unique advantage of absorbing the impact energy of the aggregate.  This reduced the effects of the sudden intermittent high impact loads on the structure itself.
The flexible properties of the rubber and physical design of the liners with a beveled edge and rebated steel backing meant they could be adjusted very close to the conveyor belt without a risk of damaging it. This resulted in creating an effective seal and completed stopped material from impacting the skirting.  This eliminated the need for skirting change-outs due to impact damage and allowed them to perform correctly as a secondary dust seal.
The result of using Regline Rubber Chute skirt liners was an effective sealing and wear protection solution for the loading zone.  This outcome offered value to the customer and the project met their needs and exceeded their expectations for reduced spillage and dust emissions.