Steel backed composite ceramic wear liners protect conveyor transfer chute
Reglin Cera-Wear Ceramic Wear Liners were used as a lining system to protect transfer chute walls and deflector plates from wear and impact on a critical mill feed conveyor system.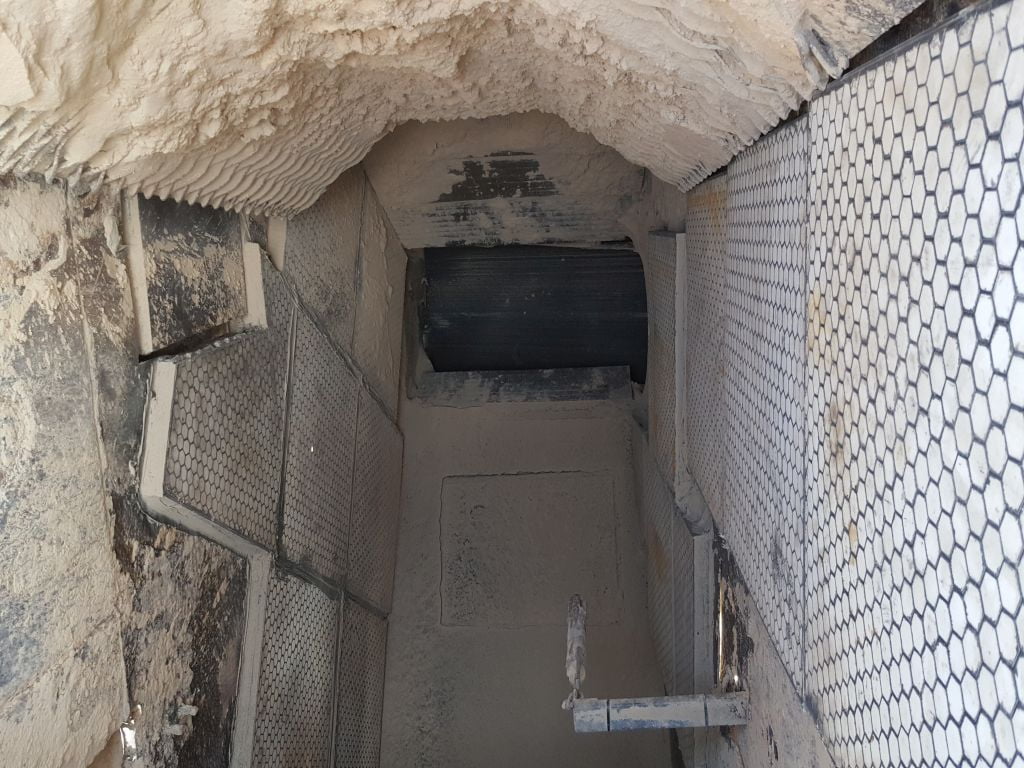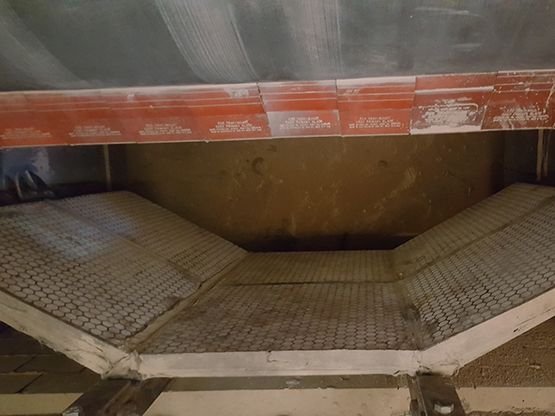 To supply a mechanically fastened wear liner system which could last between planned maintenance shutdown cycles.
A new wear liner system was required for a variety of critical chutes and transfer points through a manufacturing plant. The hardened steel liners up to 50mm thick currently being used in high wear and impact areas were not lasting and were being damaged or completely worn before planned maintenance shutdowns.
A transfer chute critical to the efficiency of the plant process was being subjected to particularly high wear. A flow of raw limestone ore in a combination of fines up to 70mm lump size was being conveyed on the system and through the transfer chute to the mill.
The premature wearing of the steel liners in the main high wear areas of the chute was also allowing for damage to occur to the steel structure behind the wear liners, allowing ore spillage.
Countersunk bolts which were used to mechanically fasten the steel liners were also having their bolt heads worn off.  This caused the liners to come away from the chute wall or even completely fall off, creating a high risk of chute blockage or damage to the conveyor belts below.
Plant shutdown deadlines demanded a solution which could be supplied quickly and could be mechanically installed.
CERA-WEAR Extreme Ceramic Wear Liners were installed to protect equipment from Wear and Impact.
Reglin supplied CERA-WEAR Extreme steel backed ceramic wear liners which were mechanically installed on deflector plates and chute walls as a new wear liner solution against the combined wear and impact of the limestone ore.
Ceramic Liners were installed using pre-welded studs in a combination of cut and standard 500mm x 500mm panels, so they were easy to manually handle for installation. This was critical due to the short shutdown period available and installation needed to be performed inside the confined space of the chutes.  The configuration of the smaller individual liners with welded studs, compared to welded or countersunk bolted hardened steel plates, also meant there was no exposure of the mechanical fixings.   This reduced the potential for wear from ore and allows for easier replacement of worn sections if required without replacing large areas of less-effected liner.
The feature of premium abrasion resistant hexagonal ceramic tiles embedded in impact resistant rubber have proven to give CERA-WEAR Extreme Ceramic Wear Liners superior resistance to both the wear and impact of the limestone ore compared to hardened steel.  They have lasted significantly longer than previous wear liner products, lasting for multiple shutdown cycles without substantial wear or failure.
The result of using CERA-WEAR Extreme Ceramic Wear Liners was an effective wear liner solution for the chute. The reliability of the chute has been improved and therefore increased efficiency of the conveyor system and plant process. This outcome offered value to the customer and the project met their needs and exceeded their expectations for improved wear life.