Mineral Processing
Abrasion and chemical resistant rubber, ceramic and plastic products for wear protection, corrosion protection and sealing solutions in the Mineral processing Industry
Reglin's premium rubber, composite ceramic and plastic products are an ideal solution for many applications in the Mineral processing Industry, including: wear and corrosion protection, flow promotion and sealing.
The Mineral processing industry is constantly evolving, modifying and improving methods to ensure they remain competitive in the global market place. It is critical that Mineral processing operations run efficiently whilst also maintaining the health and safety of employees and minimising the impact on the environment.
Processing various types of ore; from highly abrasive mineral sands or coal to sharp and hard rock and stone, to extract concentrated minerals pushes equipment to their limits.
The effects of the heavy impact and high abrasion of the primary ore can cause damage to crushing and screening equipment, causing unwanted downtime and posing a constant risk to the health and safety of employees and the environment, from dangerous spillage and the creation of noise and dust.
Mineral processing operations are also required to manage the handling of ore as a slurry.  Whether ore is extracted already wet or due to the addition of water through the grinding, screening and classification process, this slurry creates a new range of challenges.  Slurry is often highly abrasive and handled at high flow rates subjecting equipment to extreme wear.
The addition of chemicals including both acids and alkali's during concentration processes can also add critical challenges including the corrosion protection and sealing of equipment.
Reglin understands that it is critical to the Mineral processing industry that these effects are minimised to ensure operations can operate efficiently and safely with maximum productivity.
MINERAL PROCESSING INDUSTRY CHALLENGES
Protection of grinding and sizing equipment from wear and impact
Grinding and sizing equipment such as mills, screens, cyclones and trommel's process high flow rates or ore and are often subjected to extremely high wear and impact loads during operation. These effects can cause damage to both steel surfaces and the underlying structural components, potentially causing unwanted downtime and loss of production or potentially dangerous spillage.   Rubber, composite ceramic and plastic liners effectively protect grinding and sizing equipment from constant wear and impact.
Reglin offers a comprehensive range of flexible and elastic linings such as rubber, composite ceramic and plastic which are an effective solution for reducing the effects of constant wear and impact to your equipment.  These linings can be used for on-site installation during plant shutdowns or can be designed and supplied ready for mechanical fastening.  This allows them to be held on site as spares ready for quick and easy installation if required unexpectedly.
Corrosion protection of flotation system equipment
In order to remain profitable the mineral processing industry is constantly trying to improve productivity.  Processes are required to increase efficiency to ensure maximum mineral yield from the ore.  This requirement is resulting in new and higher rates of chemicals being used throughout concentration processes.
Flotation circuits use a range of different chemicals in the process including frothers, collectors and modifiers which are all within the slurry being processed by the equipment.  The requirement to improve efficiency has seen an increase in the levels of these chemicals being used and is resulting in the degradation from chemical attack of traditional wear linings used on flotation equipment.
Lining flotation system equipment such as pipes, valves and tanks with a chemical resistant rubber is now required in many cases to protect it from premature failure.  Reglin rubber supply a chemical resistant Butyline (Bromo-butyl) lining rubber for corrosion protection.  Butyline is designed for applications which require moderate wear and chemical resistance.
Chemical compositions and concentrations can have a different effect on the performance of rubber lining.  It is critical to ensure that the correct rubber lining is chosen for your specific requirements.  Please contact us for more information about the suitability of rubber linings for your application.
Wear protection of magnetic separation equipment from extreme sliding abrasion
Due to the highly abrasion nature of Iron ore, equipment used for its concentration process is often subjected to extremely high wear.  Iron ore which has already been through the grinding process has had water added and is generally processed as a slurry.  This Iron ore slurry is extremely abrasive and can cause serious damage to steel surfaces of equipment.  Magnetic separation equipment such as Magnetic separator drums and their launders operate with the wet slurry sliding against their surfaces constantly resulting in very high wear rates.
Due to the critical nature of the magnet operation wear protection lining choices for the drums are limited.  Ceramic lining of these drums is an effective solution to protect them from the aggressive sliding abrasion.  Reglin offer a range of Ceramic Wear liners for wet slurry wear protection applications.
Achieving effective and cost efficient lining systems
Throughout mineral processing, both the state of the ore and flow rates change constantly.    Equipment can be subjected to a wide range of varying wear and impact effects so it is critical when selecting wear protection lining systems that each application is analysed individually.  In many applications only a small part of the equipment will be subjected to the majority of the wear or impact.  For cost efficiency it is very important to identify these high wear and impact locations in the process and invest higher on wear protection products in the these areas.
Reglin offer a range of different products which can be used in conjunction with each other to achieve an effective and cost efficient wear protection lining system, including rubber, composite ceramic and plastic linings.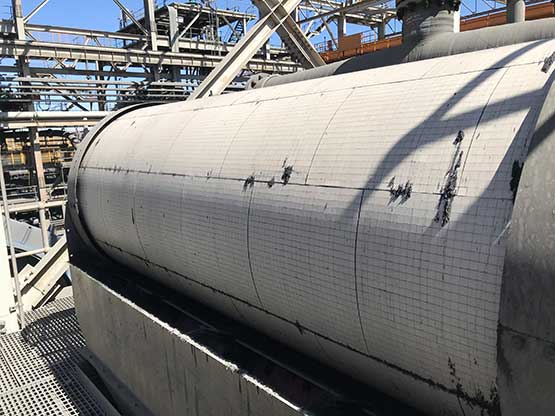 Magnetic separator drum ceramic lined in Cera-wear Ceramic wear liners for wear protection at Iron ore mine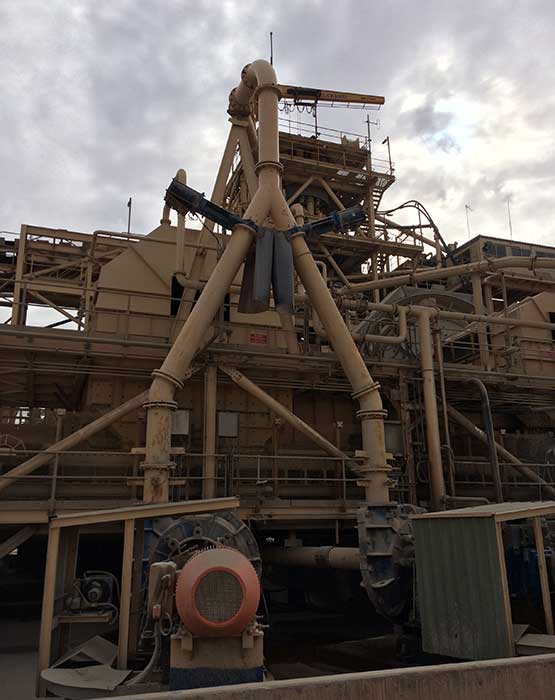 Pumps and rubber lined pipework transferring slurry from grinding mills at gold mine
Case Studies