Drilling
Flexible and wear resistant rubber products for sealing and equipment protection applications in the Drilling Industry
Reglin's premium rubber products are a durable solution for many applications in the drilling industry including equipment protection and sealing.
The drilling industry operates in many diverse environments.  A variety of different drilling rigs and equipment are used across many exploration and production operations including; oil and gas, mining, construction and infrastructure projects.  All of these comprise their own challenges to ensure efficient operation, whilst remaining profitable and maintaining the health and safety of employees.
The drilling industry is often required to operate in remote locations and feature extreme working conditions.  Drill rigs and equipment work with extremely high pressures in a variety of different geological conditions.  Plant and equipment is often subjected to extreme wear from highly abrasive drill cuttings. These combined conditions result in a wide variety of critical sealing and equipment protection application challenges.
Reglin understands that it is critical to the drilling industry that suitable sealing and equipment protection is achieved to ensure operations can run efficiently and safely with maximum productivity.
DRILLING INDUSTRY CHALLENGES
Blast hole drilling equipment protection
Blast hole drilling is the process of producing blast holes used predominantly for Mining and Quarrying.  It is critical to Mine and Quarry operation efficiency that blast hole drill rigs work continuously and maximize the number of holes drilled.
Blast hole drilling uses different rig types including Rotary and DTH Blast hole rigs which both use highly pressurized air to remove cuttings from the hole.   This process results in a combination of high velocity materials including cuttings and dust being forced out of the drill hole back towards the drill rig itself.  These materials cause wear and damage to steel surfaces and mechanical parts on equipment, potentially causing unwanted downtime and loss of production.
Rubber protection products such as deflectors and dust curtains mounted below the drill deck can effectively protect equipment from these harmful effects.
Reglin offers a range of flexible and abrasion resistant rubber drilling defectors and curtains which are an effective solution for reducing wear and suppressing dust on your drilling equipment.  Our range of premium products are UV resistant and highly durable.
Durable Drill Rod Sealing Products
The drilling industry uses a wide variety of drilling methods depending on the application.  Most methods use high pressure air or drilling fluids to force cuttings back out from the drill holes.  Different drilling methods can process these cuttings in different ways and use varying types of equipment including; diverter boxes, cyclones, pipework and sampling tools.
It is critical in many applications on drill rigs that an effective seal is created between the moving drill rod and the stationary drilling equipment.   These Drill rod seals are often subjected to extremely high wear from exposure to high pressures, abrasive cuttings and also the rotation of the drill rod.  These seals are critical to effective and safe operation of the drill rig as they protect both equipment and operators above the drilling deck from exposure to the cuttings.
Reglin premium rubber is an ideal solution for drill rod seals as it is both highly elastic and abrasion resistant.  This results in superior sealing capabilities and longer service life when compared to rigid products such as plastic, polyurethane or conveyor belt.
The elasticity of our premium rubber allows it to elongate and also maintain compression against the drill rod.  This creates an effective seal without applying excessive pressure to the drill rod and creating friction.  Its abrasion resistance ensures longevity by resisting wear from the drill rod rotation and impact from abrasive cuttings.
Reglin offers a range of durable Drill Rod seals made from a variety of highly elastic premium rubber compounds.  These drill rod seals can be supplied custom cut to suit any drill rig equipment or drill rod size.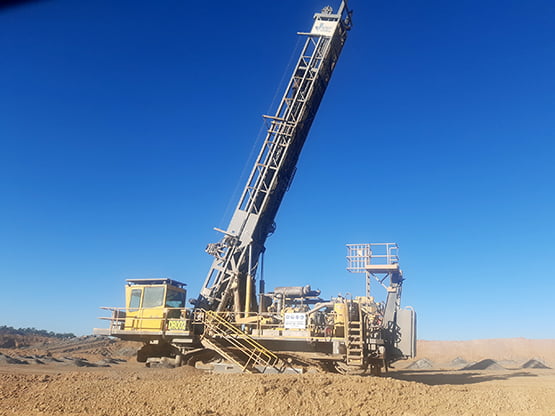 Blast hole drill rig operating on site drilling production blast holes
Reglin Chutex 40 Rubber drill rod seal on blast hole drill rig
Case Studies