Construction
Durable and flexible rubber products for bearing, insulating and isolating solutions in the Construction industry
Reglin's premium rubber products are an ideal solution for many applications in the construction industry.  These include critical applications with long design life, including load bearing, insulating from noise and weather and isolating other construction materials.
The construction industry is often faced with numerous challenges, from sourcing quality materials to building within a time frame, which meets not only all building code regulations but their client's expectations.
It is also essential that these building materials are very durable not only during construction but well after completion. This is particularly pertinent when constructing projects such as road bridges, residences, commercial offices, wharf's and even mining sites. There are also many regulations associated with the construction industry and one in particular is related to noise transmission, which is in place to ensure live-ability. It is important to make certain that this issue is addressed during construction to avoid issues in the future.
Reglin premium rubber products are a durable long-lasting solution for many construction applications which require a flexible and compressible material.  Rubber products can also display a wide range of physical properties critical to achieving various outcomes under a wide range of service conditions including; heavy load bearing, weather and UV exposure, seawater submersion and contact with hazardous road oils and grease.  Reglin's premium rubber strips, pads and gaskets are ideally suited for the construction industry.
CONSTRUCTION INDUSTRY CHALLENGES
Create flexible joints between rigid inflexible construction materials
Most building materials used in construction such as concrete, steel and timber are very rigid and are often connected together using inflexible fixings. Imperfections in the surfaces of these materials combined with their varying expansion and contraction characteristics, as well as natural movement under load and external forces, often causes a requirement for a flexible isolating material to be used between them.
Rubber is the ideal solution for many of these applications. Its flexibility and compressibility combined with physical strength and load bearing capability create a long-lasting flexible construction joint to withstand these movement conditions.
Noise reduction to meet Australian Noise Transmission Regulations
Multi-story commercial and residential buildings are required to meet strict noise transmission regulations. New buildings are required to meet regulations for the sound insulating rating of floors as set out by the Building code of Australia (BCA). To assist in achieving this standard, it is critical that construction joints are isolated to reduce noise during movement of the structure and also insulated to ensure noise does not travel through gaps between structural components.
Rubber can be used as a compressible isolating strip between many construction materials to absorb the movement of the rigid building materials. This strip can also assist with reducing the creation of noise caused by moving materials and act as a seal to insulate against the penetration of external noise.
Weatherproofing and Insulating of buildings
It is imperative in all construction, that new structures are sealed against external environmental effects. The most common of these is the weatherproofing of new buildings.
Rubber and Sponge products are both extremely flexible and compressible and can be used to seal gaps throughout building construction to ensure the structure is weatherproof.
Meeting critical project time frames
Construction projects are often subjected to critical timelines for completion.  It is imperative that stock of construction materials is readily available for prompt delivery.
Reglin Rubber have large stock holdings of their premium construction rubber products and have the ability to supply custom cut strips, pads and gaskets quickly to meet urgent demands as well as ongoing scheduled deliveries.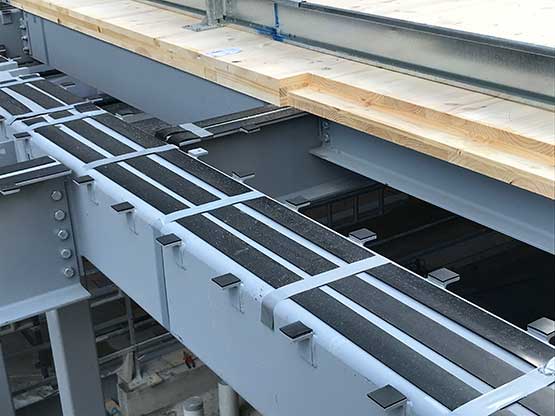 Reglin Neoprene 60 HG Rubber strips and pads installed as isolation strip beneath structural flooring system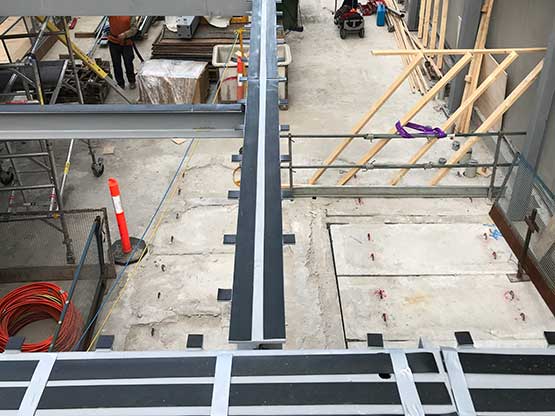 Structural steel framework with neoprene rubber strips installed