Reg-Slide Lining Polyurethane
Reg-Slide Lining Polyurethane is a premium grade wear resistant, flow promoting polyurethane lining with a CN bonding layer.
Reg-Slide Lining Polyurethane is made from a premium polyurethane compound and will display excellent resistance to wet slurry and fine particle sliding abrasion.
Reg-Slide has excellent physical properties including cut and tear resistance.  It features a low friction coefficient which results in excellent anti-stick properties which increases material flow and reduces the build-up of sticky materials.
Reg-Slide features a specially formulated Neoprene based CN bonding layer to achieve ultimate adhesion when bonded to steel or rubber surfaces.  To achieve ultimate adhesion, TRS adhesives are recommended.  The CN bonding layer and TRS adhesive system is extremely flexible.  It allows for good bond strength to be achieved even in adverse conditions encountered on site.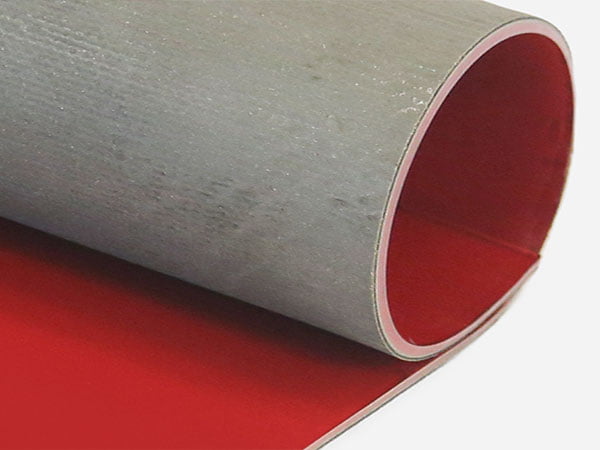 Reg-Slide Lining Polyurethane has been designed primarily for use as a wear and corrosion protection lining system.
It is bonded to equipment to reduce material build-up and protect steel surfaces from abrasion.
It is predominantly used in the Mining, Quarrying and Mineral processing industries, typically lining the following equipment:
Chutes
Tanks and pipework
Cyclones
Launders
Flotation Cells
Sumps and underpans
Reg-Slide Lining Polyurethane is also used extensively throughout the Agriculture industry on a range of grain handling, processing and storage equipment.
It can also be used for any materials handling application which requires an anti-stick and abrasion resistant plastic lining.
TECHNICAL INFORMATION
| | | |
| --- | --- | --- |
| Polymer | PU | |
| Colour | Red with CN bonding layer | |
| Specific Gravity | 1.05 | AS1683.4 |
| Hardness | 77° ± 5° Shore A | AS1683.15 |
| Tensile Strength | 27 MPa (min) | AS1683.11 |
| Elongation @ Break | 615% (min) | AS1683.11 |
| Abrasion | 43 mm³ (max) @ 10N | AS1683.21 |
| Temperature Range | 20°C to +70°C | |
AVAILABLE SIZES
Reg-Slide Lining Polyurethane is custom made in Australia. It is made-to-order and can be made in a range of thicknesses in sheets up to 1000mm x 2000mm.
Reglin can also supply a range of polyurethane products to suit your specific requirements. See Custom Made Polyurethane.